TRADE SHOWS
StrayLight Corp. is the leading provider of Virtual Reality and Stereoscopic 3D systems for Trade Shows. We offer our customers compelling ways to present their products, services, and corporate image through marketing driven content production, delivered on proprietary immersive and interactive systems. StrayLight manages and develops unique trade show solutions worldwide.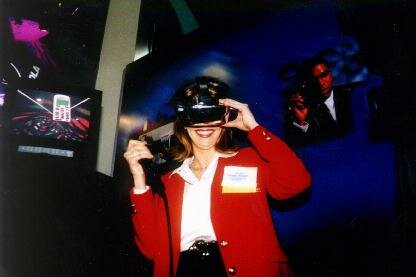 StrayLight views every customer account as having a unique set of needs. We formulate creative, and often custom, promotional tools in response to the specific requirements of the marketplace and our customer's product positioning. StrayLight builds successful trade show events on the basis of attracting a high level of initial consumer interest through innovative presentation techniques, and then capitalizing on that interest by delivering experiences and content which achieve our customers' promotional goals.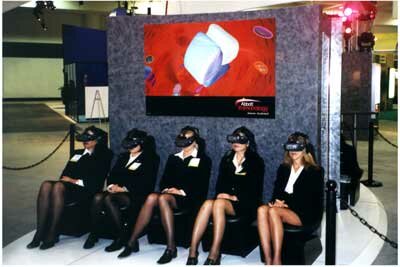 StrayLight's presentation technologies are immersive, i.e. our guests are inside a three dimensional, multisensorial world. We use stereoscopy, motion, smell, touch, 3D sound, wind, and temperature woven together to create the illusion of being inside virtual worlds. StrayLight's presentations are often interactive as well. Guests have the abilities to move, look around, and act upon objects in these 3D worlds.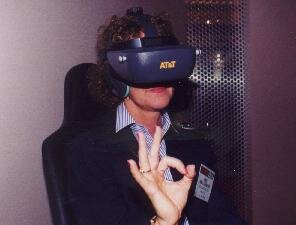 Because StrayLight's events are both immersive and interactive, we achieve extraordinarily high retention by consumers of our customers' messages. Guests who actively participate in an experience are more likely to understand and remember the information presented. Unlike passive traditional shows, guests take away our clients' messages as part of their own experiences.
Because of the specialized logistical requirements of trade show events, StrayLight designs and manufactures its own Virtual Reality equipment and maintains an extensive inventory for our rental customers. None of our events can be successful unless the equipment operates with 100% uptime and safety. StrayLight provides detailed logistical and technical support to achieve these goals.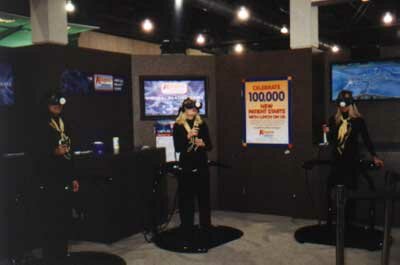 StrayLight has complete creative and production facilities in-house for the conception and execution of Virtual Reality and 3D content. Because virtual environments offer the benefits of immersion and interaction, we often work with our customer's advertising and promotions agencies to develop virtual experiences which leverage our knowledge of these proprietary presentation technologies.
Visit a few of our Trade Shows from the links below:
New 3D Virtual Theater at American Diabetes Assoc. for Sanofi-Aventis
VR Experience For Kidney Disease - Two Show Launch for Shire Pharma.
Pfizer at American Heart Association Conf. - StrayLight Launches New VR System
Oticon at American Acad. of Audiology - New 3D Audio System Demos Hearing Aids
"Incredible Voyage" for AstraZeneca - 3D Virtual Theater Featured at Stroke Conf.
Rockwell Automation - Racing Into a Second Year Tour
National Funeral Directors Association Convention 2003
HCEA 2003 - Features StrayLight 3D Technolgy
Abbott Labs - Humira Pre-Launch
Novo Nordisk - Completes 2nd Season of Medical VR
Rockwell Automation - "Fear Factory"
VISA and Bancredito - Ciberferia In the Dominican Republic
IAMS Company - Virtual Pet Food
Abbott Labs - 5 Trades Shows Expand to International Markets
Abbott Labs - Rheumatology and Monoclonal Antibodies
NovoSeven - Fighting Hemophilia at Trade Shows Around the World
Seizure Control - VR Promotion for UCB Pharma's Keppra
Family Practitioners Show - Two StrayLight Promotions
Accupril Medication - VR Game to Fight Hypertension
Delano Technology at Internet World With StrayLight's Games
Nabisco's VR Game: "Snack Attack: - FMI 2000
StrayLight Guest Speaker at TS2 - The Trade Show About Trade Shows
StrayLight's New Production - "EVOLUTION"
VR Demonstrates Product Applications For Hoechst Celanese
Interactive Trip Through The Bloodstream - Zantac 75
Frontier Communications - Trade Show Success
Chase Bank - Virtually Convert Currency Into Euros
LTX Corp. - 4 Trade Show Promotions in 3 Months&
"Operation Matrixx" VR Game For Ecolab At Worldwide Food Expo
StrayLight Increases Booth Traffic For Motorola At Wireless '98 Show
StrayLight Produces Virtual Theater For AT&T
New Low Cost 3D-XTC VR System For Promotions and Arcades
Microphone Link Added To 3D-XTC VR System
StrayLight Chosen As VR Expert By Exhibitor Show
StrayLight Creates Virtual Hotel Of The Future
Virtual Recycling Hits Multiple Trade Shows
Hoechst Celanese Features VR At SAE '97 Show


VR Experience
for Kidney Disease
La Zona SPRITE
3D Ride Film
On Tour
VR Headlines
Michigan State
Homecoming
Copyright (c) 2007
StrayLight Corp.