StrayLight Develops 3D Attraction
"FEAR FACTORY" for
Rockwell Automation's
Mobile Trade Fair Tour

Inside the Virtual Theater, Manufacturing Professionals Deepest Fears are Confronted & Solved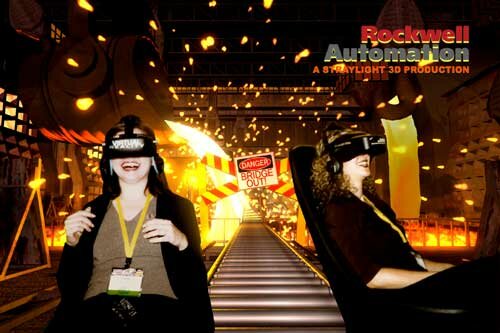 Warren, NJ, USA, February 7, 2003 - StrayLight's 8 seat Virtual Theater system comprised of Virtual Reality (VR) helmets and shaker chairs and featuring a full custom 3-D animated production entitled "Fear Factory", was the headline attraction in Rockwell Automation's Global Manufacturing Solutions booth at the Allen-Bradley Automation Fair. This Rockwell Automation (RA) company sponsored two-day event ran November 20-21, 2002 at the Anaheim Convention Center, Anaheim, California with over 7,000 attendees present. In a fun and 'scary' way, StrayLight's stereoscopic 3-D movie featured the top ten fears faced by Rockwell Automation's client base and offered RA's innovative solutions.

Starting this month a smaller StrayLight Virtual Theater system comprised of 4 seats, will travel across the country as part of Rockwell Automation's Mobile Global Manufacturing Fair. This special event visits cities and rural areas alike, delivering Rockwell's message to their US client base, especially benefiting those customers who were unable to visit the November Automation Fair.
During the Anaheim event, StrayLight's Virtual Theater system exceeded Rockwell's attendance goals by 40% with a total of 1400 people experiencing "Fear Factory". Michelle Coburn, Field Marketing, RA said "From conception to (virtual) reality, StrayLight and Rockwell Automation joined forces to create one of the most innovative plant floor experiences the automation industry has seen in a long time!"
The "Fear Factory" 3D experience is styled as an amusement park ride, similar to a haunted house adventure where participants are virtually seated in a cart that moves along a roller-coaster type track. Along the way, guests are faced with different manufacturing problems (fears) and are saved by Rockwell Automation's Global Manufacturing Solutions.
Since the RA's Global Manufacturing Solutions Group offers intangible services, one of the greatest challenges was to communicate a difficult and complex message in a unique and exciting way. To achieve a successful program, StrayLight collaborated with RA's creative team. Robert J. Stefanov, Creative Director, RA Studios said "Working with StrayLight was a magical experience in that they brought our concepts to life... they made our story boards a reality."
Developed in less than 8 weeks, StrayLight was challenged to deliver a fully produced 3.5 - 4 minute animated show. "Turn around time was nothing short of shocking!" boasted Robert J. Stefanov. An added demand was the stereoscopic element, which makes "Fear Factory" come to life in 3D. Here, the images jump off of the screen and fly out into the audience. This effect is achieved by producing a different image for each eye and then merging the two images together in a virtual reality head mounted display. StrayLight's expertise in producing high quality, immersive 3D content, allowed for this rigorous program to be developed in such short time frame while still delivering an impressive cohesive message for Rockwell Automation.
With a sense of humor, the creative team crafted a story which takes the audience through a crazy ride of 8 very real factory plant "fears". In StrayLight's production, participants are taken to the extreme brink of disaster, only to be rescued by RA's solutions. For example, while experiencing the "fear" of inventories spiraling out of control, the audience is almost buried alive by an avalanche of cardboard boxes. As plant managers are fighting the "fear" of rapidly changing technology, the "Fear Factory" throws the participants down a turbulent technology wormhole at an amazing speed. Other near disasters include being devoured by a mutant beast, falling into a pit of molten metal, being sliced in half by an oversize clock blade, and being covered in a burst of dangerous chemical compounds. But in the end, RA's Global Manufacturing Solutions guides their guest through all factory fears by optimizing manufacturing, reducing time to market, improving plant uptime, and driving regulatory controls.
StrayLight is the industry leader in custom designed Virtual Reality systems for entertainment, promotions and special events. StrayLight's VR systems have been installed worldwide for numerous Virtual Reality tours and marketing events, and have a proven track record of efficiency and reliability. With product lines ranging from interactive VR game platforms to group 3-D Virtual Theater experiences, StrayLight has developed over 60 custom VR productions. A sample of StrayLight's customers include: ABBOTT Laboratories, AT&T, AVIS, Bancredito, Blockbuster Entertainment, CableTron Systems, Chase Bank, Danzka Vodka, Disney Resorts, First Union, Frontier Communications, IBM Corp., Grateful Dead, Hennessy Cognac, Hoechst Celanese, ITT Educational Services, Jim Beam Brands, Kraft Foods, Merck, Nabisco, Novo Nordisk, Oracle, Parke-Davis, Pfizer, PGA Tour, Rockwell Automation, Royal Caribbean, Steel Recycling Institute, TAP Pharmaceuticals, UCB Pharma, USA Networks, Visa, and Warner-Lambert.



VR Experience
for Kidney Disease
La Zona SPRITE
3D Ride Film
On Tour
VR Headlines
Michigan State
Homecoming
Copyright (c) 2007
StrayLight Corp.