Virtual Theater Systems
Corporate Promotions
and Location-Based Entertainment


StrayLight's Virtual Theaters are modular entertainment systems offering large groups of people immersive, full body, 3-D "in-your-face" adventures.
Inside the Virtual Theaters, guests are immersed simultaneously in exciting stereoscopic environments using custom designed viewing devices. Virtual Reality Helmets and Magna-Scope Viewers completely block out the real world and focus 100% of the viewer's attention on the VR experience. To maximize audience capacity, Projected theaters with 3D glasses are recommended and can be designed in either a standard-screen or wide-screen format.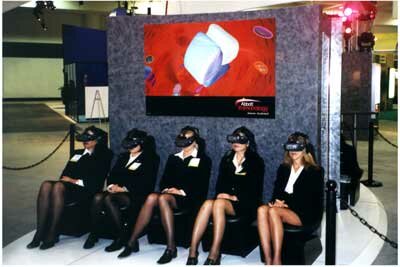 Because StrayLight caters to the promotions market, specializing in trade shows, mobile marketing, sampling tours, and themed entertainment attractions, large audience throughput is a key factor of Virtual Theaters; this allows more people through the experience per hour, than a single-player, interactive system.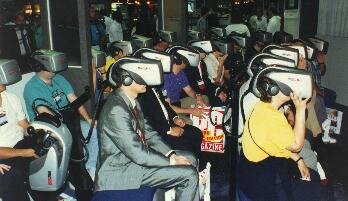 StrayLight's Virtual Theaters are also modular, offering clients the flexibility of choosing the size and arrangement of their personalized installation. This allows Virtual Theaters to be configured from a single-seat installation to a Theater with 100+ seats.

Virtual Theaters also offer installation versatility. Unusual set-ups, such as inside double-decker buses and expandable tractor trailers, can easily be accommodated.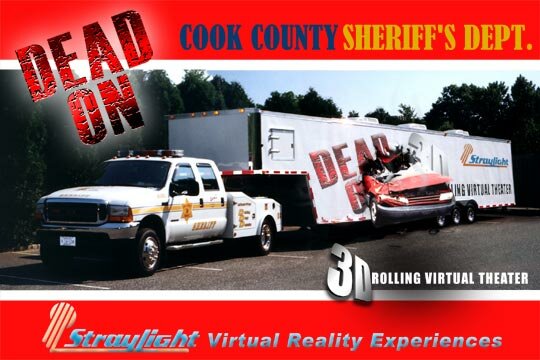 The Virtual Theater experiences are very believable, due to the 3-D stereoscopic imagery (the images literally jump off of the screen!) and the special shaker seats, where guests actually feel the pulsating vibrations of their virtual experience.

Because the content is linear, guests can view both animated and/or live stereoscopic video as part of the Theater experience. And if live 3-D video is needed, StrayLight has special stereoscopic cameras in-house to conduct location shoots.

All of the content developed for StrayLight's Virtual Theater is designed using a first-person perspective called POV (point-of-view). This method makes each Theater guest feel like they are really inside the 3-D experience, racing, flying, or floating through the story.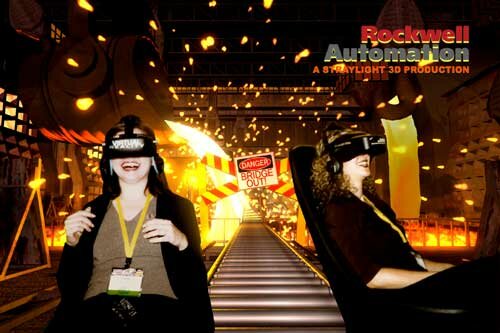 By tapping into the senses of sight, sound, and touch, StrayLight's Virtual Theaters give audience members the exciting chance to virtually experience something that is impossible or improbable to experience in the 'real world'.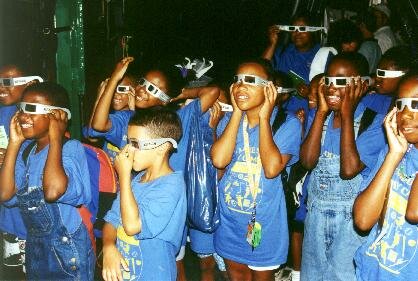 StrayLight Corp. has developed custom Virtual Theaters for clients such as Abbott Labs, AT&T, CableTron Systems, Hennessy Cognac, IBM Corp., ITT Educational Services, Kraft Foods, LTX Corp., PGA Tour, Rockwell Automation, Royal Caribbean International, SIGGRAPH, and The American Hotel and Motel Association.


VR Experience
for Kidney Disease
La Zona SPRITE
3D Ride Film
On Tour
VR Headlines
Michigan State
Homecoming
Copyright (c) 2007
StrayLight Corp.