SEMI-CUSTOM EXPERIENCES
Through a simple 3 tier approach, StrayLight makes customizing Virtual Reality entertainment experiences affordable.
Level #1 – Stock Experiences: Renting an existing VR Experience
Level #2 – Semi-Custom Development: Customizing an existing VR Experience
• VR Templates: Personalized Game Development
• VR Games, 3D Productions: Logo / Product Insertions
Level #3 – Full Custom Development: Designing new software and/or hardware

StrayLight works with their clients through all phases of the development process; forming creative designs, producing custom software, manufacturing hardware, delivering systems, and providing technical training and support.
Most importantly, StrayLight helps clients choose the most effective VR application to meet their marketing needs such as: product education, elevating brand awareness, re-enforcing a corporate image, increasing trade show booth traffic, increasing sales leads, providing unique entertainment, and attracting media attention.
StrayLight has complete creative and production facilities in-house for the conception and execution of Virtual Reality and 3D content. The most cost effective means of conveying a specific message inside a Virtual Environment is by customizing an existing VR Experience, thus developing a "Semi-Custom" experience
By working off of an existing StrayLight template, our clients are able to achieve a full custom look for a fraction of the cost. This can be achieved in a variety of ways from simply adding a logo to an existing game to rebranding and themeing an entire experience with new characters, textures, product shots, logos, video and audio cues.
StrayLight's development services include 3D stereoscopic animation, 3D live action production, and interactive Virtual Reality experience. From concept to delivery StrayLight's custom productions offer our customers compelling ways to present their products, services, and corporate image.
StrayLight's corporate promotions are used worldwide for long term promotional tours, trade shows, international fairs, on premise promotions, decision maker education, and location based entertainment venues.
---

Based on StrayLight's existing game templates, StrayLight has developed semi-custom Virtual Reality experiences for many Fortune 500 companies. StrayLight has developed Virtual Reality games built on specific brands, industries, and services, for use in trade shows, promotions and sampling tours. These interactive games are played on StrayLight's proprietary 3D-XTC platforms. Inside the Virtual Reality games, players wear high-end Virtual Reality helmets and are in complete control of where they look and what they do, using sophisticated Virtual Reality tracking technology. Inside this artificial 360° computerized world, clients capture 100% of the player's attention. From racing through the blood stream to sanitizing bacteria-ridden pipes, StrayLight's Virtual Reality games can be adapted to almost any industry!

---
Choose from existing Virtual Reality games to add excitement to your event. StrayLight can even customize the games with personalized messages, logos and products. Using StrayLight's game templates, we can economically develop a semi-custom game to create an unforgettable interactive experience.
---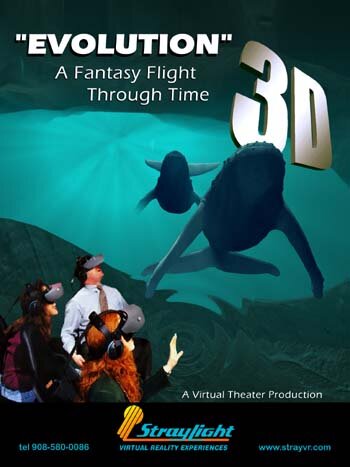 Based on StrayLight's 3D animated production "Evolution" client's such as First Union, InterFirst Whole Mortgage Lending, and Bell & Howell Publishing have semi-customized this 3D production for specific trade show promotions. For each client StrayLight animated their logo in eye-popping 3D to open and close the "Evolution" production. For increased brand exposure clients can also add custom voice-overs. "Evolution" offers clients the opportunity to achieve the benefits of a Virtual Theater promotion, without having to develop a full custom 3D production.

"Evolution" takes guests on a 3-D fantasy flight through five exhilarating environments, starting with a visit to our aquatic past and ending with the farthest reaches of outer space. Visitors marvel as they swim among colorful coral reefs and splashing dolphins and then soar high above a frigid arctic landscape.

Their journey continues as they skim over the sands and ancient ruins of a desert civilization, where to their surprise, they encounter deadly creatures guarding their precious pyramids. Evolution comes to a climax as the visitors are transported through a time portal, race through a futuristic city and are finally launched into the vastness of deep space - the future destination of mankind.


"Evolution" is experienced on StrayLight's Virtual Theater Systems which are modular entertainment systems offering groups of people immersive, full body, 3-D "in-your-face" adventures. Inside the VR helmets the 3-D images literally jump off of the screen and the special shaker seats allow guests to feel the pulsating vibrations of their virtual experience.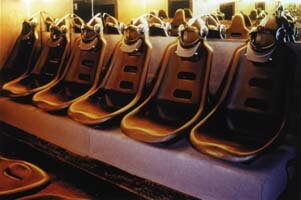 By tapping into the senses of sight, sound, and touch, StrayLight's Virtual Theaters give audience members the opportunity to virtually experience something that is impossible or improbable to experience in the 'real world'. StrayLight's Virtual Theaters are also modular, so clients can choose the appropriate number of seats while allowing exhibit designers to personalize the theater environment.


VR Experience
for Kidney Disease
La Zona SPRITE
3D Ride Film
On Tour
VR Headlines
Michigan State
Homecoming
Copyright (c) 2007
StrayLight Corp.