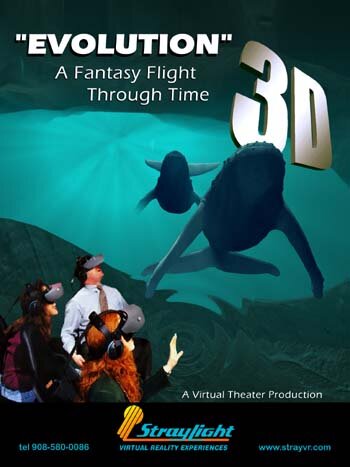 Incorporated into the booths theme of innovation, the Evolution production took guests on a fantasy flight through time, where they were 100% immersed inside a personalized 3-D ride which visits the deep sea, icelands, barren desert and outer space. Visitors enjoy an underwater swim with colorful coral reefs and dancing dolphins, and soar high above the chilling artic landscape. Their journey also weaves them through the ancient ruins of Egypt, where, to their surprise, they encounter deadly creatures guarding the precious pyramids. Transported through a time portal, guests race through a futuristic city and are launched into outer space where asteroids are exploding all around them. The ending is a surprise for all!
StrayLights Virtual Reality attraction engages the audience by tapping into many of their senses: the Virtual Theater systems use pulsating shaker chairs so they can feel the movement; 3-D helmets, so they can see the story literally jump off the screen and fly into their face; and headphones inside the helmets, which surround the viewer with dynamic music and sound-effects, all of which complete the illusion of really being there.
Downing Enterprises of Copley, Ohio, designed Bell+Howells Theater enclosure. Flooded with beautiful colored lights and a very futuristic design, StrayLights 6 seat theater was the focal point of the booth, attracting attendees from every aisle.
For added marketing exposure StrayLight animated two of Bell+Howells logos, in stereoscopic 3-D, which appeared in the beginning and end of the show. StrayLight typically develops full custom 3-D experiences that take viewers inside their clients products, but for clients who are constrained by development time frames or budget restrictions Evolution now makes Virtual Reality at their events possible.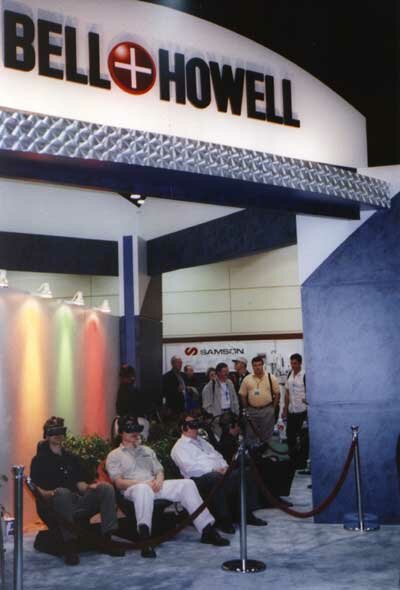 Due to the overwhelming success of Bell + Howells booth traffic at N.A.D.A, they are looking forward to next year, when they hope to have StrayLight develop a fully customized theater experience which will take attendees on a ride through the inner workings of their electronic parts catalogue.
StrayLights 3-D animation capabilities are considered to be of the highest quality in the field of corporate promotions. They pioneered the combination of stereoscopic 3-D animation and Virtual Reality Helmets in 1995, thus offering clients a group attraction that would increase audience participation for larger tradeshows and special events.
StrayLight is the industry leader in custom designed Virtual Reality systems for entertainment, promotions and special events. StrayLights VR systems have been installed worldwide for numerous Virtual Reality tours and marketing events, and have a proven track record of efficiency and reliability. With product lines ranging from interactive VR game platforms to group stereoscopic Virtual Theater experiences, StrayLight has developed over 30 custom VR productions and specializes in creating 3-D custom content, working in both stereoscopic animation and stereoscopic live-action mediums.

StrayLight Corp. has also recently delivered a brand new, break-through technology for corporate promotions, a transportable Wide-Screen 3-D Virtual Theater. Custom-designed for Royal Caribbeans mobile promotion, StrayLight installed a 30 seat, multi-sensory theater inside an expandable tractor-trailer. With a gigantic wrap-around 20-foot wide stereoscopic screen, StrayLights 3-D animated production completely immerses its guests in the story, giving the feeling of really being on board the largest cruise ship in the world, Voyager of the Seas.

A sample of StrayLight's customers and clients include: American Cyanamid, American Express, AT&T, AVIS, Bell + Howell, Blockbuster Entertainment, CableTron Systems, Chase Bank, Coca-Cola, Danzka Vodka, Disney Resorts, Ecolab Inc., Frontier Communications, IBM Corp., IDX, Gillette, GMR Marketing, Grateful Dead, Hennessy Cognac, Hoechst Celanese, Innovitech Inc./Metaforia Entertainment, ITT Educational Services, Jim Beam Brands Co., Kraft Foods, LTX, Merck, Nabisco, NYNEX, Oracle, PGA Tour, People Magazine, Royal Caribbean, Samsung, Steel Recycling Institute, TAP Pharmaceuticals, USA Networks, and Warner-Lambert.