CUSTOM EXPERIENCES
Through a simple 3 tier approach, StrayLight makes customizing Virtual Reality entertainment experiences affordable.
Level #1 – Stock Experiences: Renting an existing VR Experience
Level #2 – Semi-Custom Development: Customizing an existing VR Experience
Level #3 – Full Custom Development: Designing new software and/or hardware

StrayLight works with their clients through all phases of the development process; forming creative designs, producing custom software, manufacturing hardware, delivering systems, and providing technical training and support.
Most importantly, StrayLight helps clients choose the most effective VR application to meet their marketing needs such as: product education, elevating brand awareness, re-enforcing a corporate image, increasing trade show booth traffic, increasing sales leads, providing unique entertainment, and attracting media attention.
Development of a full custom production offers the most effective way to integrate your marketing campaign with VR entertainment. For clients with a very specific message or a complex product, the development of a 3D animated presentation may be required. For creative concepts and ad campaigns that require special hardware platforms and interactivity, StrayLight can develop a new Virtual Reality system with appropriate software. StrayLight has complete production facilities in-house for the conception and execution of Virtual Reality and 3D content.
StrayLight's development services include 3D stereoscopic animation, 3D live action production, and interactive Virtual Reality experiences. From concept to delivery StrayLight's custom productions offer our customers compelling ways to present their products, services, and corporate image.
StrayLight's corporate promotions are used worldwide for long term promotional tours, trade shows, international fairs, on premise promotions, decision maker education, and location based entertainment venues.
Full Custom Development
Rockwell Automation (RA) – "Fear Factory": The "Fear Factory" 3D animated experience is styled as an amusement park ride, similar to a haunted house adventure where participants are virtually seated in a cart that moves along a roller-coaster type track. With a sense of humor, the creative team crafted a story which takes the audience through a crazy ride of 8 very real factory plant "fears", where participants are taken to the extreme brink of disaster, only to be rescued by RA's innovative solutions. Since the Rockwell Automation's Global Manufacturing Solutions Group offers intangible services, one of the greatest challenges was to communicate a difficult and complex message in a unique and exciting way. "Fear Factory" is experienced inside a VR helmet, part of StrayLight's Virtual Theater system and debuted November 2002 in Anaheim, CA at the Allen-Bradley Automation Fair. In 2003, a small Virtual Theater system is touring across the country as part of Rockwell Automation's Mobile Automation Fair, visiting cities and rural areas alike, delivering Rockwell's message to their US client base.
---

Abbott Labs – "Monoclonal Antibodies and Rheumoid Arthritis": Abbott Laboratories wanted to develop interest in their new monoclonal antibody research for rheumatoid arthritis. StrayLight developed a full-length 3D stereoscopic animation which is viewed at trade shows through 10 individual Virtual Reality headmounted displays. This Virtual Theater has been a huge draw to Abbott's booths. Inside the experience, physicians dive down to the cellular and molecular level to experience first hand the evolution of rheumatoid arthritis therapies, culminating in Abbott's fully human monoclonal antibody. This experience made it's debut at the American College of Rheumatology Conference, in San Francisco's Moscone Center, in November of 2001 and currently headlines Abbott Immunology's worldwide trade show schedule.
---

Cook County's Sheriff's Department – "DEAD-ON": The StrayLight Corp. and the Cook County (Chicago) Sheriff's Department decided that something new and innovative needed to be done to combat the national problem of teen drinking and driving. StrayLight designed a tractor-trailer based 3D stereoscopic theater and a production entitled: "Dead-On", which the Cook County Sheriffs bring daily to regional Chicago high schools. Up to 30 students don special 3D glasses as they enter, and are then seated on special shaker chairs to watch the large screen show inside the trailer. While the special 3D effects make the audience feel like they're on a thrill ride, they soon discover that intoxicated driving is no thrill. StrayLight conceived and produced the five-minute 3D production, whose challenge was to hold the audience's attention while presenting this disturbing topic. The entire story is told casually, in the first person, from the perspective of one of the main characters, a high school senior. He uses his camcorder to capture the daily lives of his graduating high school class.
---

"Evolution: A Fantasy Flight Through Time": StrayLight recently released a beautifully animated 3-D production called "Evolution". This production offers a 3-D fantasy flight through time where theater guests visit the deep sea, arctic vistas, a barren desert and outer space. This production now makes VR possible for clients who are unable to custom design their own 3-D theater experience, and "Evolution" can be branded with 3-D logos and messages. Guests enjoy an underwater swim among colorful coral reefs and dancing dolphins, and soar high above the frigid arctic landscape. Their journey also weaves them through the ancient ruins of Egypt, where to their surprise, they encounter deadly creatures guarding the precious pyramids. Transported through a time portal, guests race through a futuristic city and are launched into outer space.
---
Royal Caribbean Cruise Lines – "Virtual Voyager": StrayLight installed their new transportable Wide-Screen 3-D Theater inside an expandable tractor-trailer for Royal Caribbean's mobile promotion "Virtual Voayger". Headlining this 2-year tour, StrayLight's 30 seat Theater has a 20ft. wide screen, which immerses the audience in a realistic 3-D tour of Royal Caribbean's newest cruise ship, Voyager of the Seas. StrayLight designed and developed the proprietary hardware system and also created the dramatic 3-D content, which gives the feeling of 'really' being on board the largest cruise ship in the world! The virtual tour includes an ice-skating rink, a golf course, a four-deck tall royal shopping promenade, a rock-climbing wall and graceful dolphins swimming shipside.
---
PGA TOUR and DIGIORNO Pizza – "A Virtual Hole in One!": Who would have known that golf could be such an adventure? Inside StrayLight's 3D stereoscopic animation, you experience a lonely golf ball's journey through 3D eye-popping mishaps, from being chased by killer bees to being eaten by fish and alligators! Built inside the back of a themed-tractor trailer is a StrayLight projected theater system with paper 3D glasses. StrayLight provided the theater hardware and 3D content for the tour, which surpassed Kraft's promotion goals. This youth initiative program delivered over 300,000 samples of pizza, a 125% increase over the sample goals and achieved a 150% increase over coupon delivery goals.
---
IBM - College Recruiting – "The Virtual Experience Tour": Inside StrayLight's 3-D animated production, participants experience a three minute journey that portrays the diverse employment opportunities at IBM. From a first person's perspective, participants experience entertaining IBM technology applications, ranging from realistic space voyages and molecular fly-throughs, to futuristic city explorations. StrayLight delivered this full custom stereoscopic production inside two of their new Magna-Scope Theater systems. For 2 years, each theater system traveled around the U.S. visiting career fairs at top engineering universities, industry trade shows, and IBM sponsored events.
---
Jim Beam's After Shock – "Pyramid of the Ancient Astronauts" VR Tour: Looking for an innovative way to promote their new After Shock Liqueur, Jim Beam Brands Co. chose StrayLight Corp. to develop an interactive Virtual Reality (VR) adventure. The premise of the game is based on After Shock's dual taste sensation. The mission is to find a buried spaceship that crash landed deep in the Andes eons ago and then free the Ancient Astronauts. Adventurers have to traverse smoldering lava rivers, extinguish flaming boulders, unfold the pyramid maze, defeat guarding sentries, and gather special organic crystals. As a direct result of their Virtual Reality Tour, After Shock Liquor surpassed it's introductory sales targets and the promotion is proclaimed as one of Jim Beam's most successful new product launches. The tours' main attraction was StrayLight's Virtual Reality game running on StrayLight's proprietary 3D-XTC platforms. The portability of StrayLight's 3D-XTC design allowed each tour to hold 2 events a day, visiting different bars, night clubs, and festivals. The success of their 10 unit U.S. based tour, initiated an additional 5 world-wide tours targeting Japan, Europe, and Latin America.
---
Hennessy Cognac – "The Barrel Tour": Traveling throughout Thailand inside a giant 80 foot cognac barrel, StrayLight's 12 seat Virtual Theater is unique among VR promotional tours. This experience examines the complicated process of making fine cognac by transforming the audience into a distilled spirit and sending them on a 3D thrill ride through Hennessy's distillery. The prestigious "Barrel Tour" combines live 3D video with 3D computer images in order to transport guests to 18th century France. There the visitor flies through the vineyards of Cognac and tours the renowned Hennessy Estate. After returning to reality, guests are escorted upstairs to taste the cognac for themselves.
---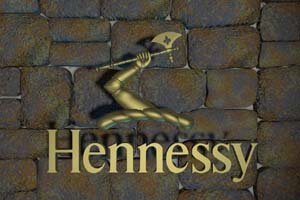 Hennessy Cognac – "The Barrel Tour - Part II": StrayLight Corp. developed new software for the second year of Hennessy Cognac's "The Barrel Tour" promotion. Increasing Hennessy Cognac sales over 600% at event sites, this VR extravaganza continues to travel to different clubs and restaurants throughout the Far East. Hennessy believed combining state of the art VR technology with the historical traditions of Hennessy would create the perfect medium to introduce cognac to a younger generation of drinkers.
---
AT&T – "The Future of the Wireless World": StrayLight built the first ever stereoscopic Virtual Theater for AT&T's "You Will" presentation at the CTIA Wireless show in New Orleans, Louisiana. Handling over 200 people an hour, this 14 seat theater launched attendees into a fictional journey through the future of wireless communication, complete with explorations of high-end computer networks and ski races down the Swiss Alps.
---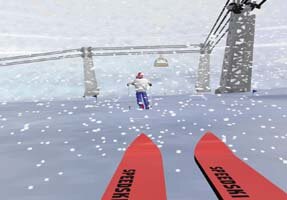 AT&T – "Personal Communication Systems": StrayLight's second theater production for AT&T was presented at the PCS trade show in Orlando, Florida. The virtual theater was designed and installed as a theater-in-the-round. "The Future is NOW" presentation raced participants through the inside of AT&T's complex switching and networking systems.
---
StrayLight – "U.F.O. - Upon Further Observation": The prestigious computer graphics show SIGGRAPH, held in Los Angeles, California, saw over 5,400 theater guests actually become the lead character in StrayLight's debut of "U.F.O." Participants experienced abduction by an alien spaceship, examination by gruesome space creatures, and a race through psychedelic time warps.
---
ITT Educational Services – "Life Without a Higher Education": Since March of 1995, ITT Technical Schools have used 60 portable Virtual Theaters as part of their high school recruitment program. The 3D presentation uses a mix of 3D stereoscopic animation and 3D live action footage. These stereoscopic theaters have already visited hundreds of schools throughout the US, demonstrating to high school students the importance of obtaining a higher education in an advancing technological world.
---
The American Hotel and Motel Association – "Hotel 2020": Traveling 25 years into the future, guests of The American Hotel & Motel Association's 84th Annual Convention experienced "Hotel 2020-The Hotel of the Future." Complete with bell-bots (robotic bellmen) and a telepresence chamber, StrayLight's Virtual Theater demonstrated to attendees how small hand held computers can act as personal digital assistants and coordinate everything from hotel check-in to accessing worldwide business transactions.


VR Experience
for Kidney Disease
La Zona SPRITE
3D Ride Film
On Tour
VR Headlines
Michigan State
Homecoming
Copyright (c) 2007
StrayLight Corp.