StrayLight Creates
"Bug Blaster"
Game for MSU Homecoming
VR Game for Michigan State Autumnfest
East Lansing, MI, Nov. 19, 2005 – What do you get when you combine America's favorite college sport with the premiere agricultural research institution in the nation? An incredible custom Virtual Reality game, courtesy of StrayLight. At the tailgate party to top all tailgate parties, prior to the big homecoming game, Michigan State's Agricultural Experiment Station sponsored a Virtual Reality competition appropriately entitled: "Bug Blaster."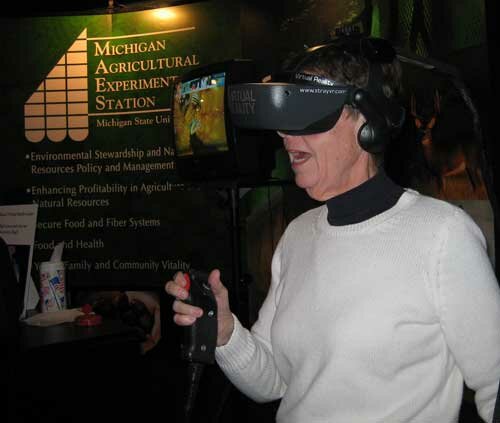 Each year, before the homecoming game, MSU brings together a party, called Autumnfest, inside their giant pavilion. Thousands of alumni and students attend and each university department provides entertainment in different areas. The Agricultural Experiment Station, under the guidance of Gwen Skinner, had a vision for a virtual attraction, no only to entertain, but to inform the game players about the department's projects.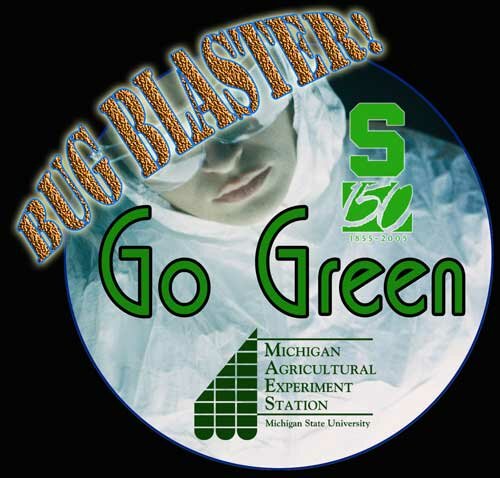 From this vision, "Bug Blaster" was born. StrayLight created a custom virtual reality game where players travel through fields and forests capturing and eliminating insect pests from the vegetation. Players measured their success through a complex score keeping system, and the best received prizes from the sponsors. The winners ranged in age from 7 to 70!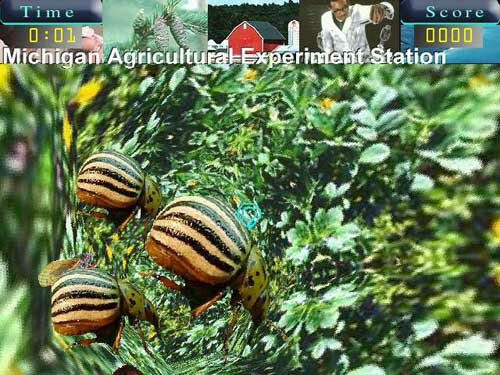 StrayLight also supplied two 3D-XTC interactive Virtual Reality platforms for the event. The 3D-XTC is a highly portable system, perfectly suited for this afternoon event. Before the day was over, hundreds of loyal MSU fans were able to blast the bugs and compete for prizes, as they waited for the big game against Penn State.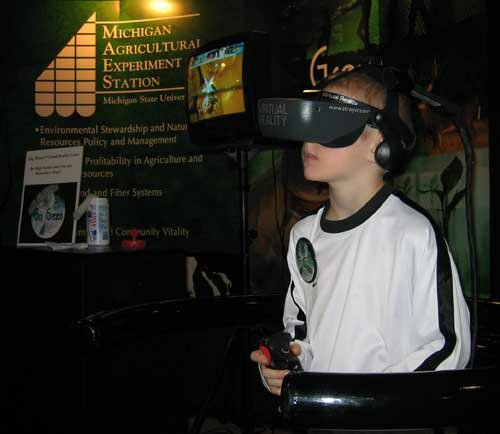 StrayLight's VR systems have been installed worldwide for numerous Virtual Reality tours and marketing events, and have a proven track record of efficiency and reliability. With product lines ranging from interactive VR game platforms to group 3-D Virtual Theater experiences, StrayLight has developed over 70 custom VR productions. A sample of StrayLight's customers include: ABBOTT Laboratories, Astra-Zeneca, AT&T, AVIS, Bancredito, Blockbuster Entertainment, CableTron Systems, Chase Bank, City of Chicago, Danzka Vodka, Disney Resorts, First Union, Frontier Communications, IBM Corp., Grateful Dead, Hennessy Cognac, Hoechst Celanese, ITT Educational Services, Jim Beam Brands, Kraft Foods, Merck, Michigan State Univ., Nabisco, Novo Nordisk, Oracle, Oticon, Parke-Davis, Pfizer, PGA Tour, Rockwell Automation, Royal Caribbean, Sanofi-Aventis, Shire, Steel Recycling Institute, TAP Pharmaceuticals, UCB Pharma, USA Networks, Visa, and Warner-Lambert.


VR Experience
for Kidney Disease
La Zona SPRITE
3D Ride Film
On Tour
VR Headlines
Michigan State
Homecoming
Copyright (c) 2007
StrayLight Corp.