3D Theater: "La Zona SPRITE"
On Tour
StrayLight Produces
All Terrain Vehicle Ride Film
and 3D Theater
Stirling NJ , Aug. 12, 2005 - Today a new, StrayLight produced, 3D ride film goes on tour in Latin America, promoting the Coca-Cola brand "Sprite" to audiences in San Pedro Sula , Honduras . StrayLight provided the touring 3D stereoscopic theater and produced the high speed All Terrain Vehicle 3D adventure enjoyed by thousands of soft drink consumers. The initial three month tour launched with a huge press conference at the convention center in San Pedro, and then daily events for audiences throughout Honduras.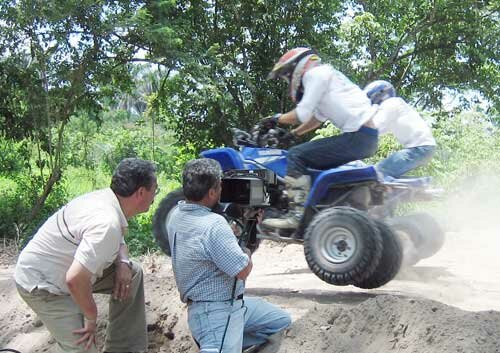 The ATV ride film was shot completely on location throughout Honduras using several of StrayLight's proprietary 3D stereoscopic camera systems. ATV action is particularly challenging because of the rugged terrain, remote locations, and difficulty of capturing point of view footage. StrayLight solved these problems with several different camera rigs, using specialized ATV mounting systems, flexible body mountings, and remote camera control solutions. Much of the 3D action is shot from the point of view of the ATV driver, including a number of vehicle stunts.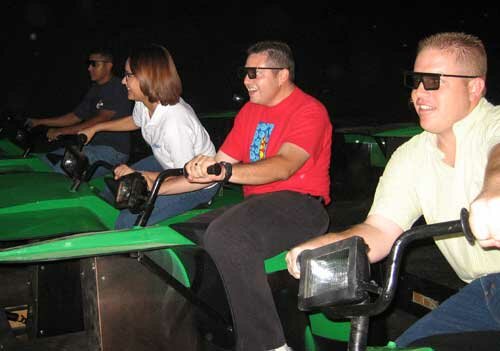 The 3D film takes participants on a wild ATV ride through the jungles, riverbeds, beaches, and back roads of Honduras . It depicts a day in the life of four teenage ATV aficionados as they race across the beautiful and rugged countryside. The ATVs splash through the rivers and ocean, fly through the air over hillcrests, and tilt up on two wheels as they careen through the turns. Although the day is jam-packed with action, there's still time to savor the refreshing cool flavor of Sprite.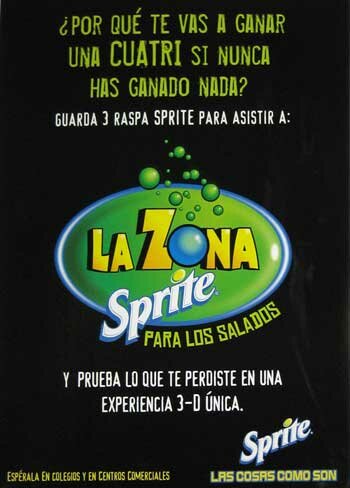 The "La Zona SPRITE" tour, produced for Cerveceria Hondurena, a subsidiary of the global brewing giant SABMiller, centers around a 40 ft. by 20 ft. 3D stereoscopic projected theater designed and installed by StrayLight for the ATV ride film. Participants wear special 3D glasses and ride motion based ATV mock-ups while immersed in the ride film. Groups of ten virtual ATV riders enter through automatic electric doors, don their 3D glasses, and jump on their vehicles. They are transported by their moving ATVs and the 3D screen at one end of the theater. When the virtual ATVs splash through the river and ocean surf, hidden water sprayers hit participants with a cool shower. Through the 3D effects, sound effects, music, ATV motion, and water, "La Zona SPRITE" is an incredibly realistic adventure.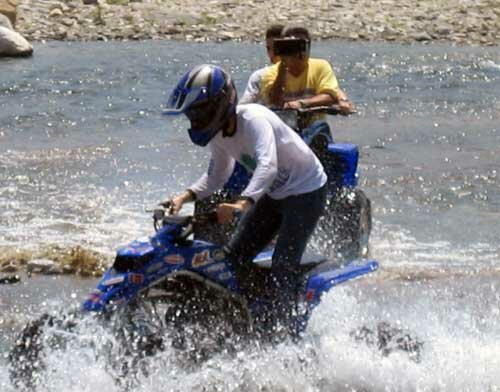 StrayLight is the industry leader in custom designed Virtual Reality systems for entertainment, promotions and special events. StrayLight's VR systems have been installed worldwide for numerous Virtual Reality tours and marketing events, and have a proven track record of efficiency and reliability. With product lines ranging from interactive VR game platforms to group 3-D Virtual Theater experiences, StrayLight has developed over 70 custom VR productions. A sample of StrayLight's customers include: ABBOTT Laboratories, Astra-Zeneca, AT&T, AVIS, Bancredito, Blockbuster Entertainment, CableTron Systems, Chase Bank, City of Chicago, Danzka Vodka, Disney Resorts, First Union, Frontier Communications, IBM Corp., Grateful Dead, Hennessy Cognac, Hoechst Celanese, ITT Educational Services, Jim Beam Brands, Kraft Foods, Merck, Nabisco, Novo Nordisk, Oracle, Oticon, Parke-Davis, Pfizer, PGA Tour, Rockwell Automation, Royal Caribbean, Sprite, Steel Recycling Institute, TAP Pharmaceuticals, UCB Pharma, USA Networks, Visa, and Warner-Lambert.


VR Experience
for Kidney Disease
La Zona SPRITE
3D Ride Film
On Tour
VR Headlines
Michigan State
Homecoming
Copyright (c) 2007
StrayLight Corp.