StrayLight Develops VR Experience
To Treat Kidney Disease
Multi-System Launch at Two Conferences
Chicago, IL, April 20, 2006 – StrayLight develops a new Virtual Reality experience for Shire Pharmaceuticals Fosrenol and debuts a multi-show rollout at the National Kidney Foundation (NKF) Conference in Chicago and the American Nephrology Nurses Association (ANNA) Conference in Nashville. The customized VR experience takes medical professionals inside the GI tract to demonstrate the mechanism of action of Shire's new drug. Fosrenol is a phosphate binder, and the VR participants actually use "virtual" Fosrenol to bind with dangerous phosphates in the GI tract, an important part of kidney disease therapy.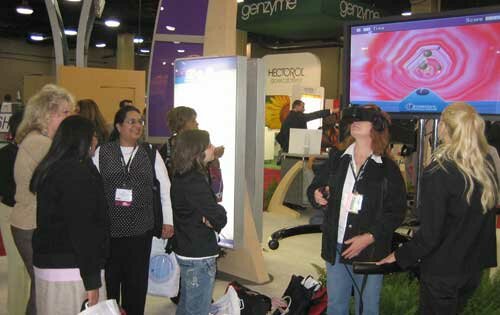 At both the NKF and ANNA conferences StrayLight provided two of its 3D-XTC interactive Virtual Reality pod systems, allowing guests to compete for high scores throughout each of the 3 day shows. The high score system was coupled directly to the exhibition mag-stripe card swipe system, allowing Shire to track exhibit booth performance.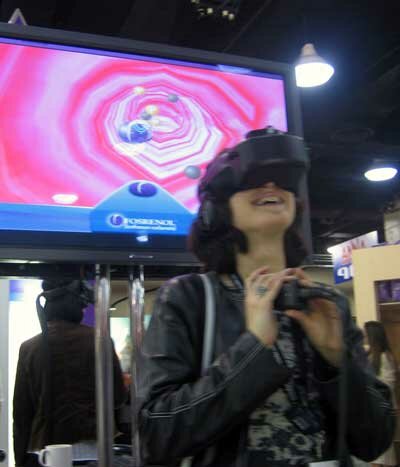 The Fosrenol game, developed in-house at StrayLight, depicts the complex interaction of phosphates and bile acids in the GI tract. During the VR experience, medical professionals administer Fosrenol, a phosphate binder, into the GI tract, binding it to the excess phosphates and controlling one of the more dangerous aspects of kidney disease. Their progress is monitored by a rating system and the players compete for high scores, indicating success in treating this condition.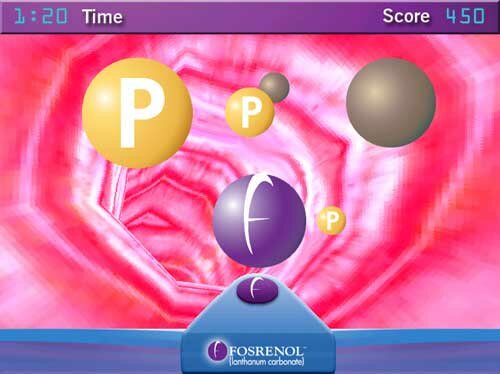 StrayLight VR experiences have been used to demonstrate the mechanism of action of many drugs, but the new Fosrenol game adds a number of new features, including new high resolution VR helmets, a competitive scoring system, and a show badge tracking system. These are all implemented on StrayLight's new 3rd generation portable 3D-XTC VR pod system. A number of additional shows are planned for 2006. StrayLight is the industry leader in custom designed Virtual Reality systems for entertainment, promotions and special events.
StrayLight's VR systems have been installed worldwide for numerous Virtual Reality tours and marketing events, and have a proven track record of efficiency and reliability. With product lines ranging from interactive VR game platforms to group 3-D Virtual Theater experiences, StrayLight has developed over 70 custom VR productions. A sample of StrayLight's customers include: ABBOTT Laboratories, Astra-Zeneca, AT&T, AVIS, Bancredito, Blockbuster Entertainment, CableTron Systems, Chase Bank, City of Chicago, Danzka Vodka, Disney Resorts, First Union, Frontier Communications, IBM Corp., Grateful Dead, Hennessy Cognac, Hoechst Celanese, ITT Educational Services, Jim Beam Brands, Kraft Foods, Merck, Michigan State Univ., Nabisco, Novo Nordisk, Oracle, Oticon, Parke-Davis, Pfizer, PGA Tour, Rockwell Automation, Royal Caribbean, Sanofi-Aventis, Shire, Steel Recycling Institute, TAP Pharmaceuticals, UCB Pharma, USA Networks, Visa, and Warner-Lambert.


VR Experience
for Kidney Disease
La Zona SPRITE
3D Ride Film
On Tour
VR Headlines
Michigan State
Homecoming
Copyright (c) 2007
StrayLight Corp.