NEW WIDESCREEN
3-D Virtual Theater

First Installation: Royal Caribbean Cruise Lines
Touring Promotion:
VIRTUAL VOYAGER
Experience in 3-D
Voyager of the Seas Cruise Ship
Virtually Visits Land-Locked Destinations
Warren, New Jersey, USA, October 29, 1999 - StrayLight Corp. has recently delivered a brand new, break-through technology for corporate promotions, a transportable Wide-Screen 3-D Virtual Theater. Custom-designed for Royal Caribbeans mobile promotion, StrayLight installed a 30 seat, multi-sensory theater inside an expandable tractor-trailer. With a gigantic wrap-around 20-foot wide stereoscopic screen, StrayLights 3-D animated production completely immerses its guests in the story, giving the feeling of really being on board the largest cruise ship in the world, Voyager of the Seas.

StrayLight designed and developed the proprietary hardware system and also created the dramatic computer-generated 3-D content, which is a sneak preview of Royal Caribbeans newest ship, Voyager of the Seas. The Theaters expansive screen engulfs its audience, thus emphasizing the grandeur of the ship. In addition, StrayLights animation tours guests through the Voyagers amazing amenities, which include an ice skating rink, a rock climbing wall, a basketball court, a golf course and four-deck tall royal shopping promenade.
With beautiful special effects, StrayLight included graceful dolphins swimming along side the majestic Voyager of the Seas. As an expert in producing high-quality stereoscopic POV (point-of-view) content, StrayLight delivers very compelling and realistic virtual experiences. The animated graphics literally pop-off of the screen, while guests wear special glasses to experience the in-your-face stereoscopic 3-D effects. To add to the realism, StrayLights multi-sensorial theater experience includes sight, sound, smell and touch, with 3-D graphics, a vigorous sound track, tropical smells, and cool ocean breezes.
The audiences reaction to Virtual Voyager has been overwhelmingly positive, and has surprised even Royal Caribbean; their on-site cruise bookings have significantly surpassed their program goals after only the first few events. One guest told staff members: We were so excited from the movie, that we booked our vacation today! An industry representative exclaimed, Not only will I sell consumers rooms on this ship&but I want to go on it!
GMR Marketing, Milwaukee, WI, developed the concept of touring a virtual cruise ship, when faced with the marketing challenge of how to sample a cruise experience, especially when the cruise ship is still being built in Europe and when many of the promotions target markets are land-locked destinations. GMR called upon StrayLight, their long-time Virtual Reality partner, to develop a unique, high-quality virtual hardware and software solution. Thus, StrayLights Wide-Screen 3-D Theater became the headlining attraction for the Virtual Voyager, which can be described as a 53-foot mobile museum, complete with the 30 seat Virtual Theater, a scale model of the ship, a wall-size cut-away diagram of the ship, and a plasma screen showcasing the western Caribbean destinations.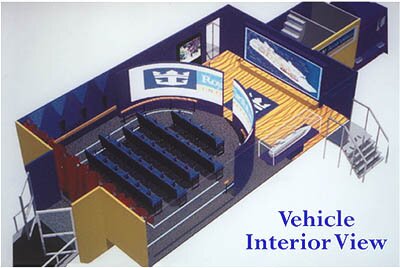 StrayLights Wide-Screen Virtual Theater is unique and an industry first because it is the only 3-D wide-screen, multi-sensorial theater that is transportable for mobile marketing and trade show events. The Virtual Theater can be assembled in less than one hour, and is an innovative way to introduce new products, increase trade show booth traffic and to increase brand awareness. StrayLights theater design is affordable and accessible (in size and layout) to exhibit managers and special event promoters. The theater configuration can be customized for maximum audience throughput; with 30 seats in only a 20x20 foot area, Royal Caribbeans installation allows for over 350 people per hour to experience the Virtual Voyager.
StrayLight has experience designing Virtual Theaters systems inside unique traveling vehicles. For Hennessy Cognac, StrayLight installed a 12 seat helmet-based theater with shaker seats inside a double-decker bus for a cognac sampling tour across the Far East. The show allowed guests to virtually experience the cognac distilling process and to fly through the vineyards and the lush French countryside. For Kraft Foods and the PGA Tour, StrayLight installed a projected Virtual Theater inside a foldout tractor-trailer. That 3-D experience immerses guests inside a playful animated story, where they become a golf ball hurdling towards a hole-in-one!
StrayLight is the industry leader in custom designed Virtual Reality systems for entertainment, promotions and special events. StrayLights VR systems have been installed worldwide for numerous Virtual Reality tours and marketing events, and have a proven track record of efficiency and reliability. With product lines ranging from interactive VR game platforms to group stereoscopic Virtual Theater experiences, StrayLight has developed over 30 custom VR productions and specializes in creating 3-D custom content, working in both stereoscopic animation and stereoscopic live-action mediums.
A sample of StrayLight's customers and clients include: American Cyanamid, American Express, AT&T, AVIS, Blockbuster Entertainment, CableTron Systems, Chase Bank, Coca-Cola, Danzka Vodka, Disney Resorts, Ecolab Inc., Frontier Communications, IBM Corp., IDX, Gillette, GMR Marketing, Grateful Dead, Hennessy Cognac, Hoechst Celanese, Innovitech Inc./Metaforia Entertainment, ITT Educational Services, Jim Beam Brands Co., Kraft Foods, LTX, Merck, NYNEX, Oracle, PGA Tour, People Magazine, Royal Caribbean, Samsung, Steel Recycling Institute, TAP Pharmaceuticals, USA Networks, and Warner-Lambert.
The Virtual Voyager Tour launched at Three Rivers Regatta in Pittsburgh, visited the New York Stock Exchange, and is currently spending 4 months traveling across the United States. For more information and tour dates please visit: www.rccl-voyager.com (More Virtual Voyager tour dates for the spring of 2000 will be posted early next year.) The real Voyager of the Seas sails the Caribbean from the port of Miami on November 21, 1999.


VR Experience
for Kidney Disease
La Zona SPRITE
3D Ride Film
On Tour
VR Headlines
Michigan State
Homecoming
Copyright (c) 2007
StrayLight Corp.