A Custom StrayLight Virtual Theater
Headlines Roving Promotion for
PGA TOUR and DIGIORNO
Rising Crust Pizza
Golf, Pizza and 3D Glasses for Kids of all Ages
"A Virtual Hole in One!"
Warren, New Jersey, USA, July 21, 1998 - While wearing special 3D glasses, children across the country will experience what it feels like to soar through the air like a golf ball, inside StrayLights Virtual Theater system. Built inside a themed-tractor trailer, StrayLight provided the hardware, custom 3D content, and technical support for the youth-initiative program called "PGA TOUR Rolling Clubhouse, Presented by DIGIORNO Pizza".
Inside StrayLights stereoscopic animation, guests experience a lonely golf balls journey through eye-popping mishaps, from being chased by killer bees to being devoured by an alligator. The experience is so compelling, because the visuals are developed in a stereoscopic format, through a complicated dual-image process. The first-person camera-angles also add to the realistic effects. The guests feel like they are inside the story and experiencing the crazy 3D adventures for themselves. The tours corporate sponsors chose to have minimal branding inside the experience - PGA TOUR is seen and heard in the opening sequence, with the DIGIORNO logo appearing on a passing hot-air balloon and on the flagstick.
StrayLight scripted the animation to entertain a family-oriented market, with an emphasis on 12-17 year old demographics. The tour was developed to encourage children to become involved with golf at an earlier age. GMR Marketing is the promotional agency who created the program and is managing the tour.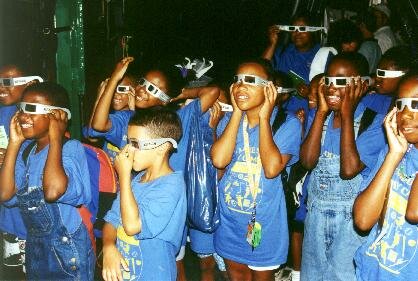 Because this 2 year promotion is conducting over 60-70 events each year, GMR Marketing chose StrayLights Virtual Theater system for its proven track record of high reliability and durability. When StrayLights VR helmet-based theater promotion toured inside a double-decker bus for Hennessy Cognac, they experienced unbelievable up-time reports of 99%. Having worked with StrayLight before for various Virtual Reality-based tours, GMR Marketing returned again to the industry leader.
StrayLights Virtual Theater system was designed as a projected system to allow for large audience throughput. The paper 3D glasses serve a dual purpose; they are a viewing device for the projected stereoscopic visuals and an imprinted take-away item for theater guests. The PGA TOUR Rolling Clubhouse promotion will visit various locations, from retail parking-lots, to balloon festivals, to prestigious golf tournaments.
Another recent project required StrayLight to custom design a new VR display technology, called Magna-Scope. A 48 seat Virtual Theater with Magna-Scope technology was successfully installed at EXPO 98, the last Worlds Fair of the 20th Century. Each Magna-Scope is themed as personal submarine ride and installed inside Portugal Telecoms Virtual Reality Pavilion. As an unencumbered viewing system with advanced optics, the Magna-Scope offers a revolutionary break-through technology for Virtual Reality visualization. Stereoscopic visuals are projected inside the Magna-Scope units with twenty times the resolution and four times the field-of-view compared to other Virtual Reality helmet-based themed attractions.
In 1994, StrayLight Corp. developed the first-ever immersive-based group VR platform, with the creation of their Virtual Theater system. StrayLights VR systems have been installed world-wide for various Virtual Reality tours and special events, and have a proven track record of efficiency and reliability. StrayLight has developed over 25 custom VR productions, and specializes in creating stereoscopic custom content, working in both stereoscopic animation and stereoscopic live-action mediums.
StrayLight Corp. is a veteran provider of Virtual Reality hardware and software solutions for themed attractions and event promotions, with product lines ranging from interactive VR game platforms to group stereoscopic Virtual Theater experiences. StrayLight has developed three turn-key entertainment systems, 3D-XTC, CyberTron, and Virtual Theaters. StrayLights CyberTron system is best known as the first Virtual Reality installation on a Walt Disney World property. Fifteen of StrayLights 3D-XTC systems, complete with custom software, were instrumental in the introduction of Jim Beam Brands After Shock Liqueur to the American, Japanese, Mexican, and European markets. All of StrayLights entertainment systems include VR content, which can be customized with logos, special messages, characters, and sound.
StrayLight's customers and clients include: American Express, AT&T, AVIS, Blockbuster Entertainment, CableTron Systems, Coca-Cola, Danzka Vodka, Disney Resorts, Ecolab Inc., Gillette, GMR Marketing, Grateful Dead, Hennessy Cognac, Hoechst Celanese, IBM, IDX, Innovitech Inc./Metaforia Entertainment, ITT Educational Services, Jim Beam Brands Co., Kraft Foods, LTX, NYNEX, Objective Systems Integrators, Oracle, PGA Tour, People Magazine, Samsung, Steel Recycling Institute, TAP Pharmaceuticals, The American Hotel and Motel Association, USA Networks, and Westwood One.


VR Experience
for Kidney Disease
La Zona SPRITE
3D Ride Film
On Tour
VR Headlines
Michigan State
Homecoming
Copyright (c) 2007
StrayLight Corp.