Everyone is Dying to Play
StrayLight's Virtual Reality Game
at the
National Funeral Directors Association Convention
Attendees were encouraged to virtually
"Discover Your Oasis" in Las Vegas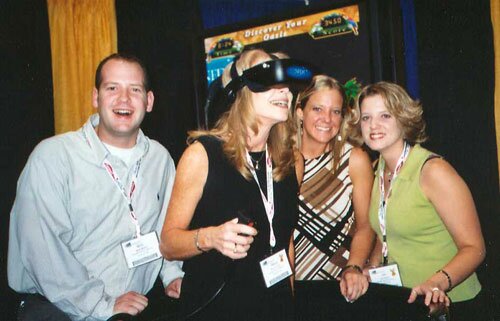 Warren, NJ, USA, October 28, 2003 – StrayLight's Virtual Reality systems were a huge success for the National Funeral Directors Association (NFDA) Convention & Expo., which ran from October 19–22, 2003 in Las Vegas. To generate excitement and active participation on the trade show floor, StrayLight designed a customized interactive experience which coordinated with the theme of the Expo: "Discover Your Oasis." Attendees strapped on virtual reality helmets and were launched into a fantasy world filled with sand, water, camels, and magic carpets. Players competed against one another for the top score and daily prizes were awarded. Each day one lucky winner took home a $300 check donated by NFDA's sponsor Worsham College.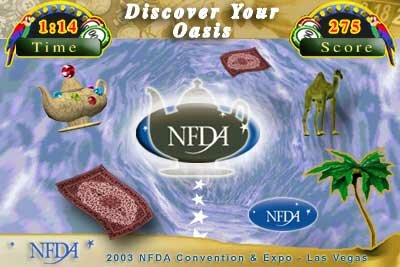 StrayLight's VR game not only incorporated elements from the Oasis themed event, but from its gaming location, Las Vegas, and from the event's host, NFDA. The NFDA logo consists of stars highlighting the NFDA acronym; therefore the collection tools in the game were the NFDA's shooting stars. Players were challenged to collect the animated characters, by launching NFDA stars in their path. When a shooting star successfully captures its target, the star transforms it into an animated NFDA logo. The mission is to collect as many characters as possible in a 2.5 minute time frame. By involving the audience, NFDA offered a unique form of entertainment and branding.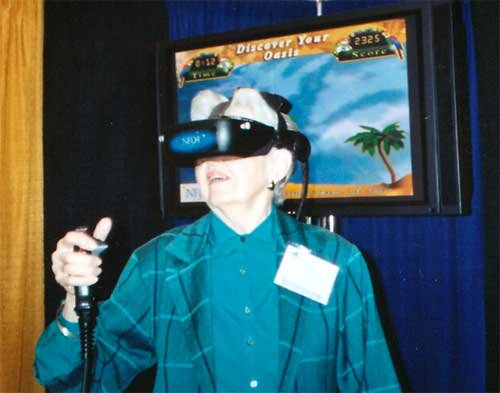 As the experts in 3D and Virtual Reality experiences, StrayLight provided two Virtual Reality stations which were strategically placed by the food court so attendees could enjoy the fun and games before, during, and after their refreshments. The action of each VR game station could be seen on large plasma screens, so visitors could watch their colleagues partake in the fun! A virtual host, who assisted the players and sanitized the helmets between each guest, staffed each VR station. StrayLight's Virtual Reality game "Discover Your Oasis" was delivered on StrayLight's proprietary 3D-XTC platform, which consists of a professional grade head mounted display, a stand-up pod, a hand controller and sophisticated tracking/VR technology.

StrayLight is the industry leader in custom designed Virtual Reality systems for entertainment, promotions and special events. StrayLight's VR systems have been installed worldwide for numerous Virtual Reality tours and marketing events, and have a proven track record of efficiency and reliability. With product lines ranging from interactive VR game platforms to group 3-D Virtual Theater experiences, StrayLight has developed over 60 custom VR productions.
A sample of StrayLight's customers include: ABBOTT Laboratories, AT&T, AVIS, Bancredito, Blockbuster Entertainment, CableTron Systems, Chase Bank, Danzka Vodka, Disney Resorts, First Union, Frontier Communications, IBM Corp., Grateful Dead, Hennessy Cognac, Hoechst Celanese, ITT Educational Services, Jim Beam Brands, Kraft Foods, Merck, Nabisco, Novo Nordisk, Oracle, Parke-Davis, Pfizer, PGA Tour, Rockwell Automation, Royal Caribbean, Steel Recycling Institute, TAP Pharmaceuticals, UCB Pharma, USA Networks, Visa, and Warner-Lambert.