StrayLight's Virtual Reality is
HOT, HOT, HOT!
VR Game Sizzles at
Dominican Republic
CyberFair

VISA and Bancredito
join forces for hi-tech promotion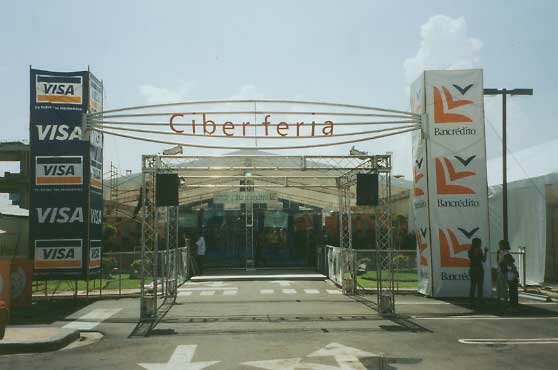 Santo Domingo, Dominican Republic, September 9, 2002 - StrayLight Corp. has developed and delivered a customized Virtual Reality game for VISA and Bancredito, which headlined a large CyberFair in Santo Domingo, Dominican Republic. StrayLight's interactive real-time Virtual Reality game was the headlining attraction for this Caribbean event, which included over 100 booths in a multi-tented outdoor venue, running for 4 days in early August. Promoting consumer electronics and consumer financing by Bancredito and VISA, StrayLight's VR experience challenged people of all ages to beat the clock and virtually collect computers, keyboards, printers and monitors to gain the coveted peso-points.
StrayLight's 90 second Virtual Reality game, "Ciberferia" ran non-stop for over 14 hours a day, with long lines of excited players. The VR attraction greeted every guest at the entrance to the CyberFair, driving home Bancredito's and Visa's technology theme in a most compelling manner. As one of the leading banks in the Dominican Republic, Bancredito is the premier financial institution serving the country's expanding technology sector. StrayLight's customized VR experience served to establish Bancredito's technology leadership in the minds' of potential customers.
"Ciberferia" was delivered on StrayLight's proprietary 3D-XTC platform, which consists of a professional grade head mounted display, a stand-up pod, a hand controller and sophisticated tracking/VR technology.
GomezLee Marketing, of Santo Domingo, organized the CyberFair for Bancredito and VISA, and selected the experts at StrayLight Corp. to be their Virtual Reality partner. With less than one week to develop the customized VR game, StrayLight's artists, designers and programmers worked around the clock, to deliver an exhilarating experience for the sponsors, VISA and Bancredito. The Dominican Republic's national TV station even featured a one-hour segment on the Virtual Reality game during prime time evening viewing.
StrayLight is the industry leader in custom designed Virtual Reality systems for entertainment, promotions and special events. StrayLight's VR systems have been installed worldwide for numerous Virtual Reality tours and marketing events, and have a proven track record of efficiency and reliability. With product lines ranging from interactive VR game platforms to group 3-D Virtual Theater experiences, StrayLight has developed over 60 custom VR productions. A sample of StrayLight's customers include: ABBOTT Laboratories, AT&T, AVIS, Blockbuster Entertainment, CableTron Systems, Chase Bank, Danzka Vodka, Disney Resorts, First Union, Frontier Communications, IBM Corp., Grateful Dead, Hennessy Cognac, Hoechst Celanese, ITT Educational Services, Jim Beam Brands, Kraft Foods, Merck, Nabisco, Novo Nordisk, Oracle, Parke-Davis, Pfizer, PGA Tour, Royal Caribbean, Steel Recycling Institute, TAP Pharmaceuticals, UCB Pharma, USA Networks, Visa, and Warner-Lambert.



VR Experience
for Kidney Disease
La Zona SPRITE
3D Ride Film
On Tour
VR Headlines
Michigan State
Homecoming
Copyright (c) 2007
StrayLight Corp.