STRAYLIGHT INSTALLS
26 SEAT HEAD MOUNT
BASED THEATER
First Commercial Test-bed For
High Throughput Virtual Reality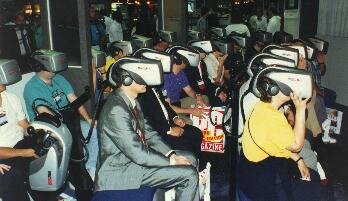 Las Vegas, NV, May 3, 1994 - In an industry first, StrayLight Corp. has completed installation of a 26 seat immersive theater including individual high resolution head mounted displays for each viewer. In doing so, StrayLight has proven that virtual reality is ready for high traffic locations such as theme parks, museums, and science centers. Unlike traditional VR attractions which are geared for 10 to 20 participants an hour, the StrayLight installation is handling in excess of 300 per hour in a 300 square foot space. The system is modularly built so that it can be expanded to handle thousands per hour as many theme parks require.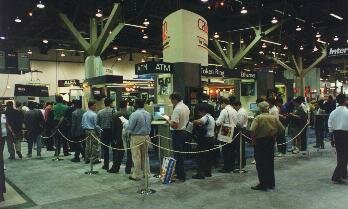 Aside from technical innovations, the prime concerns in designing this head mount based theater were flow control, reliability, and hygiene. The ability to seat 26 participants and place them in sanitary head mounts in under a minute was designed into the facility at a very early stage. "We knew that rapid turnaround was the key to this theater's success.", says Tony Asch, StrayLight's president. Asch also commented, "We quickly realized that a minimum complement of staff would improve the overall economics."

The theater was built for CableTron, Inc. as part of a presentation at their Interop+Networld trade show booth. CableTron plans to use this theater repeatedly throughout the year, both at trade shows and at their Rochester, NH headquarters. This year's presentation is part of a multi-year agreement with StrayLight to build an expanded theater with increased participant interaction. The initial theater was built to show immersive animation, a video based fly through of CableTron's MMACPLUS network hub. In 1995, CableTron and StrayLight plan to present a fully interactive experience to 40 or more individual participants.


VR Experience
for Kidney Disease
La Zona SPRITE
3D Ride Film
On Tour
VR Headlines
Michigan State
Homecoming
Copyright (c) 2007
StrayLight Corp.