StrayLight's 3D-XTC Offers
Low Cost Virtual Reality
Entertainment
Free Microphone Network with Single
and Multi-Player 3D-XTC(tm) Systems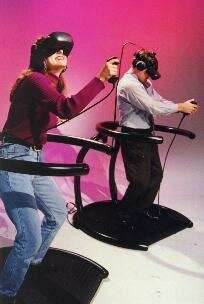 NEW ORLEANS, Louisiana, November 15, 1995 - StrayLight's 3D-XTC(tm) Virtual Reality entertainment system debuts its latest component, a complete microphone network, at IAAPA, The International Association of Amusement Parks and Attractions. 3D-XTC(tm) is a new low cost VR game, which is so compact it requires an area of only 12 square feet. Four 3D-XTC(tm) systems will be on display in booth #5413 from November 15 -18, 1995 in New Orleans, Louisiana.
3D-XTC(tm) is the most affordable Virtual Reality entertainment system on the market, offering owners a return on investment in less than four months - based on a conservative estimation of 40% capacity utilization, $5 ticket price and a 2 system configuration. The low price point brings 3D-XTC(tm) within the budgets of small entertainment sites such as Family Entertainment Centers, arcades, retail outlets, bars and restaurants.
The latest addition to 3D-XTC(tm) is a microphone network link, allowing players to speak with one another during cooperative game play. The microphones allow players to work together in teams, as they plot strategic plans to overcome their enemies. For a single 3D-XTC(tm) , the system operator communicates with the players to help pilot them through their challenging missions. The microphone link is now a standard component of 3D-XTC(tm) with no additional cost to the owner.
Designed for easy transport and quick set-up and take-down, 3D-XTC(tm) weighs under 180 lbs. and can be installed in less than 10 minutes. 3D-XTC(tm) is the only Virtual Reality system, so portable that special event marketers can easily conduct multiple shows in the same day. Prior to its introduction to the market, StrayLight had already sold a ten unit order of 3D-XTC(tm) systems for a nationwide promotional campaign beginning in the spring of 1996.
StrayLight offers full game development services for the promotion and trade show markets. For smaller budgets, 3D-XTC(tm) software can be customized with logos, product shots, and specialized audio.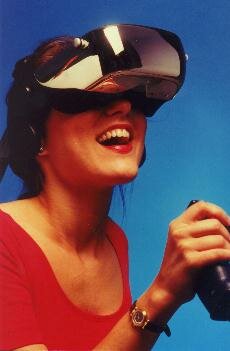 3D-XTC(tm) players navigate through virtual experiences in real-time, with a multi-functional hand controller and a reflective chrome HMD (head mounted display). Displaying the 3D texture-mapped graphics with a high degree of realism, the light weight HMD has high performance audio and a microphone network built inside. The 3D-XTC(tm) HMD can also be adjusted to fit any game player, including those with glasses.
StrayLight is a Virtual Reality equipment manufacturer and content producer. StrayLight has developed three turn-key entertainment systems, CyberTron(tm) , Virtual Theaters, and 3D-XTC(tm) . CyberTron(tm) is a successful gyroscopic motion-based VR system, best known as the first VR system to be permanently installed in Walt Disney World. CyberTron(tm) systems are installed throughout the US, Europe, and the Far East. Virtual Theaters are immersive full body experiences, where large groups of people journey together through stereoscopic worlds. Theater attendees are seated inside impact/motion chairs with individual HMDs. Virtual Theaters are available at a low cost to the operator with off-the-shelf experiences, such as "Upon Further Observation - U.F.O." - a Sci-Fi alien abduction experience.


VR Experience
for Kidney Disease
La Zona SPRITE
3D Ride Film
On Tour
VR Headlines
Michigan State
Homecoming
Copyright (c) 2007
StrayLight Corp.