StrayLights Virtual Reality Game
Increases Booth Traffic for
Motorola at Wireless 98 Show
Warren, New Jersey, USA, April 13, 1998 ¾ StrayLight Corp. customized a Virtual Reality game for Motorolas trade show promotion at CTIAs Wireless 98 show in Atlanta, Georgia. Drawing a tremendous crowd, two of StrayLights interactive 3D-XTC Virtual Reality platforms helped Motorola expand booth traffic and increase lead generation.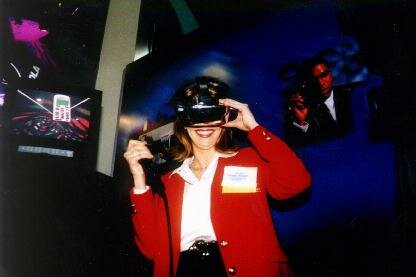 Inside StrayLights 3D-XTC platforms, attendees zoomed through a sci-fi tunnel maze, encountering animated Motorola iDEN wireless phones along the way. Players were challenged to beat the high score of the day, by zapping as many iDEN phones as they could, within a 2.5 minute time frame. Free T-shirts were awarded to high scoring players.
People in the aisles were able to follow along with the Virtual Reality games in real-time, by viewing the game action on large monitors staged next to each 3D-XTC system. Booth traffic greatly increased over prior shows, as curious attendees gathered around the VR systems.
3D-XTC players participated in Motorolas show slogan, Experience the Future, with StrayLights Virtual Reality technology. Virtual Reality allows people to completely immerse themselves in an artificial world - a world which exists only inside of a computer. To interact in this virtual world, people must wear sophisticated VR helmets (head mounted displays) and manipulate a hand controller. Although the technology is simple to use, Virtual Reality promotions excite both the young and old, by tricking the senses to believe you are literally somewhere else, a somewhere which doesnt really exist.
With different Virtual Reality systems to choose from, StrayLight emphasizes that their clients marketing objectives dictate the promotion, not the technology. "Before deciding which Virtual Technology to recommend, we always meet with our clients first, to learn more about their objectives." says Victoria Massulli, Director of Marketing. "Communicating our clients message and accomplishing their business goals is most important - the technology should be secondary."
StrayLights Virtual Reality services include event management and equipment rental, in addition to custom development and programming. Their custom production services also meet different budget levels: from full custom development services, to the modification of existing games and stereoscopic productions, to the rental of stock experiences.
For example, by modifying an existing 3D-XTC game, "Cozmik Debris II" instead of developing a new game, Motorola had a significant cost savings. The "Cozmik Debris II" game was designed specifically for corporate customization, lending itself naturally to the addition of product insertions, corporate logos, video clips and sound bites. StrayLight has modified games to include animated Coke bottles, AVIS rental cars, Danzka vodka bottles, automotive parts, recycled steel objects, pesky bacteria, and now Motorola wireless phones.
StrayLight is the leading Virtual Reality equipment manufacturer and content producer for the promotions market. StrayLight has developed three turn-key entertainment systems, 3D-XTC , CyberTron, and Virtual Theaters. StrayLights CyberTron system is best known as the first Virtual Reality installation on a Walt Disney World property. All entertainment systems include VR software, which can be customized with logos, special messages, characters, and sound.
StrayLight's promotional customers and clients include: American Express, AT&T, AVIS, Blockbuster Entertainment, CableTron Systems, Coca-Cola, Danzka Vodka, Disney Resorts, Ecolab Inc., IDX, GMR Marketing, Grateful Dead, Hennessy Cognac, Hoechst Celanese, ITT Educational Services, Jim Beam Brands Co., Kraft Foods, LTX, NYNEX, Objective Systems Integrators, Oracle, PGA Tour, People Magazine, Samsung, Steel Recycling Institute, TAP Pharmaceuticals, The American Hotel and Motel Association, USA Networks, and Westwood One.


VR Experience
for Kidney Disease
La Zona SPRITE
3D Ride Film
On Tour
VR Headlines
Michigan State
Homecoming
Copyright (c) 2007
StrayLight Corp.