StrayLights 48 Seat
Virtual Reality Theater
Closes Expo 98, the Last
Worlds Fair of the 20th Century,
With an Unbelievable
100% Up-Time Record!
Over ½ Million Magna-Scope guests in 4 months!
Warren, New Jersey, USA, December 2, 1998 - After four months of 14 hours days, 7-9 hour queues, and close to 600,000 guests, StrayLight is proud to announce a 100% up-time record for their 48 seat Virtual Reality Theater system installed at Expo 98, the last Worlds Fair of the 20th Century, in Lisbon, Portugal. StrayLight debuted their new custom-designed VR display technology, Magna-Scope viewers, as part of a new Virtual Reality Entertainment Center called Oceania, sponsored by Portugal Telecom. While inside their personal Magna-Scope Systems, guests are shuttled deep into the oceans depths to experience a realistic underwater VR (Virtual Reality) adventure.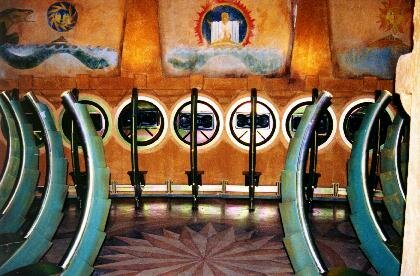 StrayLights 0% downtime record for the Magna-Scope viewers astounded even the operational and technical experts, who had anticipated moderate downtime attributed to the rigorous schedule, first generation production equipment, and normal wear and tear on the units. StrayLights President Tony Asch attributes the outstanding reliability to rigid engineering standards, including pre-testing, triple-layered back-up strategies, and an acute attention to detail.
StrayLights Magna-Scope system offers a revolutionary break-through for Virtual Reality visualization - the images look more real. Stereoscopic visuals are projected inside the Magna-Scope units with twenty times the resolution and four times the field-of-view compared to other Virtual Reality helmet-based themed attractions.
Because it was designed as an unencumbered viewing system with advanced optics, the Magna-Scopes offers a better alternative to Virtual Reality head mounted display systems. The Magna-Scopes allow for easier system operation and offer higher reliability and durability features.
StrayLight is the industry leader in custom designing Virtual Reality systems for entertainment, promotions and special events. StrayLights VR systems have been installed world-wide for various Virtual Reality tours and marketing events, and have a proven track record of efficiency and reliability. With product lines ranging from interactive VR game platforms to group stereoscopic Virtual Theater experiences, StrayLight has developed over 30 custom VR productions and specializes in creating stereoscopic custom content, working in both stereoscopic animation and stereoscopic live-action medium
A sample of StrayLight's customers and clients include: American Express, AT&T, AVIS, Blockbuster Entertainment, CableTron Systems, Chase Bank, Coca-Cola, Danzka Vodka, Disney Resorts, Ecolab Inc., Frontier Global Center, IBM, IDX, Gillette, GMR Marketing, Grateful Dead, Hennessy Cognac, Hoechst Celanese, Innovitech Inc./Metaforia Entertainment, ITT Educational Services, Jim Beam Brands Co., Kraft Foods, LTX, NYNEX, Oracle, PGA Tour, People Magazine, Samsung, Steel Recycling Institute, TAP Pharmaceuticals, USA Networks, and Westwood One.
Expo 98 "The Oceans: A Heritage For Our Future" operated from May 22nd to September 30th, 1998, in Lisbon, Portugal. The Virtual Reality Pavilion is remaining open year-round as a key tourist attraction to the Lisbon area. This collaborative Oceania Virtual Reality Pavilion was designed and produced by Metaforia Entertainment Inc., a Canadian-based technology consulting firm who is currently developing future international sites for this high-tech family-oriented LBE (Location Based Entertainment) Center.


VR Experience
for Kidney Disease
La Zona SPRITE
3D Ride Film
On Tour
VR Headlines
Michigan State
Homecoming
Copyright (c) 2007
StrayLight Corp.