StrayLight Installs 48 Seat
Virtual Reality Theater At
Expo 98,
the Last Worlds Fair of the
20th Century Inside Portugal
Telecoms Virtual Reality Pavilion
New Hands-Free Viewing Systems
Offer Most Advanced VR Display Technology
Warren, New Jersey, USA, July 6, 1998 - StrayLight Corp. is proud to announce the successful installation of a 48 seat Virtual Reality Theater inside Portugal Telecoms Virtual Reality Pavilion at Expo 98, the last Worlds Fair of the 20th Century. With a new custom-designed VR display technology called Magna-Scope, StrayLights theater installation provides guests with a highly realistic underwater adventure. As an unencumbered viewing system with advanced optics, the Magna-Scope offers a revolutionary break-through technology for Virtual Reality visualization. Stereoscopic visuals are projected inside the Magna-Scope units with twenty times the resolution and four times the field-of-view compared to other Virtual Reality helmet-based themed attractions, demonstrating StrayLights leadership in custom designed Virtual Reality systems for entertainment, promotions and special events.
The positive reviews from Expo 98 are rolling in and Expo Site Managers are reporting 4 hour queues for the Pavilion of Virtual Reality, the only Pavilion operating with extended hours (and requiring an extra ticket), to help manage the enormous crowds. The Virtual Reality Pavilion is one of the chosen venues to remain open even after the fair closes in September, as a key attraction to tourists and business people expected to visit this revitalized area of Lisbon, Portugal.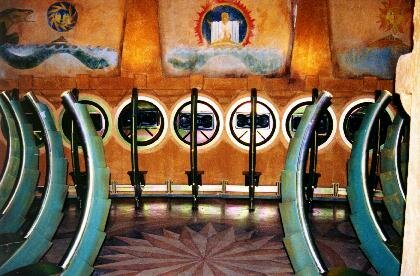 Upon entering the Virtual Reality Pavilion, each guest leaves reality behind - everything they now see, hear, and touch belongs to the lost world of Oceania. Guests are shuttled deep into the depths of the ocean, where inside StrayLights Magna-Scope installation they experience beautiful theatrical-like explorations of the lost underwater civilization. Each Magna-Scope is themed as a personal submarine, where seated guests simply peer inside the Magna-Scopes face-plate, to become part of the highly realistic stereoscopic animation. Once the adventure begins, guests can physically feel the pulsating vibrations of underwater travel, with special seats that pump tremors up the guests spines. The music, heard through individual speakers on each side the Magna-Scopes face-plate, sets the mood of the journey, as it progresses from a fun-oriented adventure, to a heart-pumping survival mission after an accident occurs underwater. Dont worry, the guests are safely returned, but because of the Magna-Scopes high degree of realism, the guests may never think of water-sports in the same way again.
Full immersion is extremely important in the creation of a themed entertainment experience. Before the release of the Magna-Scope technology, the only way to achieve this realism was through Virtual Reality helmets. The Magna-Scope is a next generation viewing system, eliminating the need for cumbersome helmets and one-on-one hosting. StrayLights Theaters, with Magna-Scope technology, offer venue operators easy equipment accessibility, high reliability, durability, and easy operation and hosting.
In 1994, StrayLight Corp. developed the first-ever immersive-based group VR platform, with the creation of their Virtual Theater system. StrayLights VR systems have been installed world-wide for various Virtual Reality tours and special events, and have a proven track record of efficiency and reliability. StrayLight has developed over 25 custom VR productions, and specializes in creating stereoscopic custom content, working in both stereoscopic animation and stereoscopic live-action mediums.
Stereoscopic experiences seem so realistic because the images literally "jump" off of the screen and give guests "in-your-face" special effects. Creating stereoscopic content is a complicated process where StrayLight generates a separate image for each eye (right and left) and then combines the two images together for viewing on proprietary hardware platforms. The optics inside the Magna-Scope technology are a technological break-through allowing StrayLight to offer a higher degree of realism in their custom attractions for themed entertainment centers.
StrayLights Virtual Theater systems are modular systems and can be configured from a small one or two seat theater, to a theater with hundreds of participants. StrayLight works closely with client-selected designers to theme their Virtual Theaters; installations have ranged from typical movie-house style seating in rows, to very elaborate configurations inside double-decker buses and tractor-trailers.
At Expo 98, StrayLights 48 Magna-Scopes were installed inside three semi-circular rooms, each themed as the interior of an ancient pyramid, complete with aging hieroglyphics. Guests are ushered into each room in groups of 16, with 2 handicap access chairs per room. The front piece of each Magna-Scope protrudes from the wall, encircled by a metal frame with pull-down handles, depicting a personal submarine lookout. The shaker-chairs are designed to echo the murals of the ancient sea-serpents, complete with an illuminated curved dragon-like spine.
StrayLight Corp. is a veteran provider of Virtual Reality hardware and software solutions for themed attractions and event promotions, with product lines ranging from interactive VR game platforms to group stereoscopic Virtual Theater experiences. StrayLight has developed three turn-key entertainment systems, 3D-XTC(tm) , CyberTron(tm) , and Virtual Theaters. StrayLights CyberTron(tm) system is best known as the first Virtual Reality installation on a Walt Disney World property. Fifteen of StrayLights 3D-XTC(tm) systems, complete with custom software, were instrumental in the introduction of Jim Beam Brands After Shock Liqueur to the American, Japanese, Mexican, and European markets. All of StrayLights entertainment systems include VR content, which can be customized with logos, special messages, characters, and sound.
StrayLight's customers and clients include: American Express, AT&T, AVIS, Blockbuster Entertainment, CableTron Systems, Coca-Cola, Danzka Vodka, Disney Resorts, Ecolab Inc., IDX, Gillette, GMR Marketing, Grateful Dead, Hennessy Cognac, Hoechst Celanese, Innovitech Inc./Metaforia Entertainment, ITT Educational Services, Jim Beam Brands Co., Kraft Foods, LTX, NYNEX, Objective Systems Integrators, Oracle, PGA Tour, People Magazine, Samsung, Steel Recycling Institute, TAP Pharmaceuticals, The American Hotel and Motel Association, USA Networks, and Westwood One.
Hosting high-tech and low-tech pavilions from over 146 nations, Expo 98 will be operating from May 22nd to September 30, 1998, in Lisbon, Portugal. Over 15 million visitors are expected to visit Expo 98, themed "The Oceans: A Heritage For Our Future." This collaborative Oceania Virtual Reality Pavilion was designed and produced by Innovitech Inc., a Canadian-based technology consulting firm, who recently created the subsidiary Metaforia Entertainment Inc. to develop future international sites of high-tech family-oriented LBE (Location Based Entertainment) Centers.


VR Experience
for Kidney Disease
La Zona SPRITE
3D Ride Film
On Tour
VR Headlines
Michigan State
Homecoming
Copyright (c) 2007
StrayLight Corp.