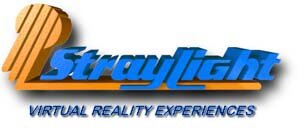 ---
3D- XTC System

Interactive Virtual Reality

The 3D-XTC system is a StrayLight proprietary Virtual Reality platform, which runs StrayLight's custom-designed interactive Virtual Reality experiences.

Inside the 3D-XTC systems, guests wear high-end Virtual Reality helmets and are in complete control of where they look and what they do, using sophisticated Virtual Reality tracking technology. Inside this artificial 360° computer-generated world, clients capture 100% of the guest's attention.

Designed for on-site promotions, each 3D-XTC has a small footprint, approximately 3.5' x 5' and requires standard power of 220 watts @110 volts.


---
Semi-Custom
Virtual Reality Games
Choose from existing Virtual Reality games to add excitement to your event. StrayLight can even customize the games with personalized messages, logos and products. Using StrayLight's game templates, we can economically develop a semi-custom game to create an unforgettable interactive experience!

---

Virtual B-Ball

A unique, basketball VR experience that pits you against an armada of dive-bombing backboards as you zoom thru twisting playing courts. Your goal: Attempt to score baskets before the clock runs out. Feel the excitement, feel the action and hear the cheers of a crowd gone wild. The only question remains ...Do you have what it takes?

- CUSTOMIZE BY ADDING LOGOS TO THE BACKBOARDS AND GAME CONSOLE.
- ADD SOUND FX AND PERSONALIZED ANNOUNCER COMMENTARY!

---

Cozmik Debris

Cozmik Debris takes you through mazes of wild and wacky psychedelic tunnels inhabited by the strangest creatures the world has ever seen. Your mission is to zap as many of these critters as possible within the given time frame. Race through hyper-space and the player with the highest score wins!

- REPLACE THE CREATURES WITH ANIMATED PRODUCTS AND ICONS.
- CHANGE THE TUNNELS TO FIT A PERSONALIZED THEME!

---

Golden Quest

The Golden Quest takes you to a magical kingdom where danger lurks in the shadows and a fabled treasure awaits you. Pick up golden relics & magic crystals from a lost civilization. Beware of the Skull Stones as they prevent you from reaching the ancient pyramid. Use your bravery and skill to vanquish the monsters & behold the Hall of Gold!

- REPLACE THE CRYSTALS, RELICS AND MONSTERS WITH PRODUCTS AND ICONS.
- CHANGE THE DECOR AND LANDSCAPE!
---
Semi-Custom Examples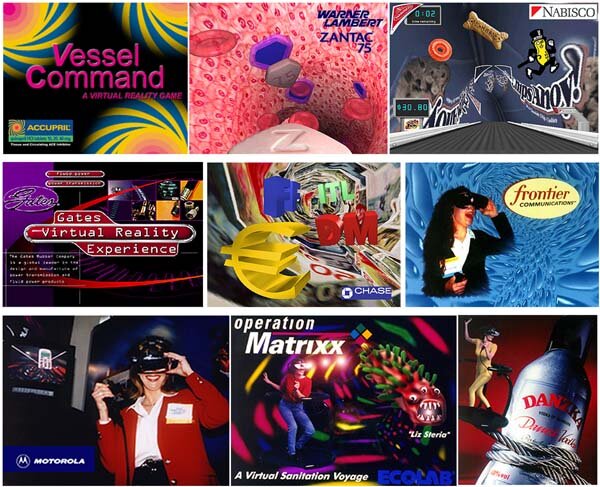 Based on StrayLight's existing game templates, StrayLight has developed semi-custom Virtual Reality experiences for many Fortune 500 companies. These interactive games are played on StrayLight's proprietary 3D-XTC platforms, and are very affordable to design compared to the development costs for a fully-customized VR experience. StrayLight has developed Virtual Reality games built on specific brands, industries, and services, for use in trade shows, promotions and sampling tours. Inside the Virtual Reality games, players wear high-end Virtual Reality helmets and are in complete control of where they look and what they do, using sophisticated Virtual Reality tracking technology. Inside this artificial 360° computerized world, clients capture 100% of the player's attention. From racing through the blood stream to sanitizing bacteria-ridden pipes, StrayLight's Virtual Reality games can be adapted to almost any industry!
---
Accupril Medication - VR Game to Fight Hypertension
3D-XTC Promotional Tour For Jim Beam After Shock

3D-XTC At Trade Show For Motorola

3D-XTC At Trade Show For Ecolab
3D-XTC Promotional Events For Steel Recycling
3D-XTC At Trade Show For Hoechst Celanese

---

Specifications

VR - Virtual Reality 3D- XTC: Artificial intelligence allowing players to maneuver through, and interact with, computer generated virtual worlds.
3D- XTC Immersion: Manipulation of senses and emotions which transports the player from reality into new dimensions.
HMD - Head Mounted Display: Navigation, viewing, and listening tool - light weight - high resolution display - adjustable fit - 3D sound.
Hand Controller: Navigation tool - speed controller - target shooter - enemy detector.
Texture Mapped Graphics: High quality computer images producing realistic virtual environments.

3D- XTC Portable Platform: Light weight stand-up VR system - user friendly -simple assembly - easy transport.
Low Expenditure: Affordable - Shortest ROI for arcades, FECs, LBEs, restaurants, and bars.
Customized Software: Add personalized messages, logos, and product shots into the virtual worlds of 3D- XTC.
External Monitors: Available for audience/crowd participation.
Specifications: Weight: 200 lb.
Power: 110/220 VAC, 50/60 Hz, 250 Watts
Footprint: 12 sq. ft., 1.3 sq. m.