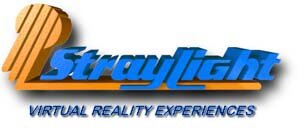 ---
StrayLight's 3D-XTC "After Shock" Virtual Reality Tour
Global Expansion Covering 4 Continents
New Orleans, LA, August 6, 1996 - StrayLight's Virtual Reality Tour, custom designed for Jim Beam Brands' After Shock Liqueur promotion, has just announced a 4 continent global expansion beginning this fall in the Far East. The interactive tour has proven overwhelmingly successful since its launch in March 1996, with StrayLight's 3D-XTC(tm) Virtual Reality (VR) system as the portable VR game platform.
For over nine months, hundreds of thousands of adults from across the US are being sent on a mission to find a buried spaceship that crash landed deep in the Andes eons ago. Rumor has it that a secret pyramid was built by Ancient Astronauts from a far off galaxy. The journey will not be easy; adventurers will have to traverse smoldering lava rivers, extinguish flaming boulders, unfold the pyramid maze, defeat guarding sentries, and gather special organic crystals. Trapped on earth, these Ancient Aliens lie in suspended animation waiting for mankind to rescue them and take them home.
Are you up for the challenge? There are only two requirements, you must be over 21 years of age and you need to visit a local bar hosting the cutting-edge "After Shock" Virtual Reality game. By donning a Virtual Reality helmet (HMD), close to 300,000 people will race through intricate mazes in an attempt to rescue the Ancient Astronauts.
Looking for an innovative way to promote one of their most popular products, After Shock Liqueur, Jim Beam Brands Co. chose StrayLight Corp. to develop an interactive Virtual Reality (VR) adventure. StrayLight custom designed the "Pyramid of the Ancient Astronauts" game. Traveling individually, eight VR systems are visiting 45 US cities, headlining more than 4,000 events over a 9 month period. The international promotion begins September 1996 and will span a total of four continents beginning with Asia and continuing to South America and Europe.
StrayLight's "After Shock" Virtual Reality Tour is the first VR promotion of this magnitude to ever be produced and executed. GMR Marketing of Milwaukee, Wisconsin, manages the VR tour which launched at several Spring Break sites in March 1996.
The software is played using StrayLight's 3D-XTC(tm) Virtual Reality system. 3D-XTC(tm) is a portable stand-up VR platform where players navigate through virtual environments with a head mounted display and a multi-functional hand controller. StrayLight produced the VR software, manufactured the hardware, provided the creative design, and maintains technical support and training efforts for the After Shock project.
"Pyramid of the Ancient Astronauts", was developed from the ground up for Jim Beam and attracts adventurous consumers who are not afraid to try something new. The software, which parallels the dual sensations created by an After Shock experience, was specifically designed to entertain both the experienced video game player and the novice.
The premise of the game is based on After Shock's dual taste sensation. After Shock, imported from Canada, is a unique cinnamon cordial which at first tastes like hot flaming cinnamon fireball. Then, as you take a deep breath, you feel a cool soothing sensation. But that is not all, mysterious crystals form and grow inside the After Shock bottle and can be consumed for the ultimate After Shock experience.
"StrayLight worked closely with Jim Beam and GMR Marketing in the development of an integrated marketing program," says Victoria Massulli, StrayLight's Director of Marketing. "The focus of the promotion had to be an on-premise event that was interactive, cutting edge, and could demonstrate the hot versus cold sensation of the drink."
StrayLight's 3D-XTC(tm) Virtual Reality system was designed specifically for special event promotions. 3D-XTC(tm) is the only Virtual Reality platform capable of traveling to 2 events each night. The "After Shock" Tour was able to double its number of events, without increasing the tour duration, thus proving that the equipment's mobility directly translates to cost effectiveness.
"We never could have produced the "After Shock" Tour without small portable equipment." said Jeff Snyder, Account Manager, GMR Marketing, the promotions agency responsible for the tour management. "Our tour mangers set-up the Virtual Reality systems in under 5 minutes!"
The compact 3D-XTC(tm) has a very small footprint. Since 3D-XTC(tm) requires only 12 square feet of space, the tour is NOT restricted to large dance clubs, but can visit small bars and restaurants with limited space. The platform breaks into four small pieces, thus 3D-XTC(tm) can fit through normal doorways, has no special height requirements, and can be transported inside a compact car.
System reliability was another consideration for the "After Shock" Tour. Because the systems are moved 2 times a day, they are built to survive the countless load-in/out cycles. The 3D-XTC(tm) system was designed for rugged transport. The system enclosures are specially shock resistant and no assembly or wiring is needed to go from a shipping configuration to full operation. For the "After Shock" Tour, this has translated to zero failures during the first month of the tour.
One of the most sophisticated components of 3D-XTC(tm) is a high resolution Virtual Reality Head Mounted Display, (HMD), the VR4000. Players navigates through the experience by moving their head in different directions. The 3D-XTC(tm) has a tracking device built in the HMD, which sends directional signals back to the computer. The computer, in real-time, computes the players' proper viewpoint inside the three dimensional simulated environment.
For additional brand recognition, the "After Shock" Tour HMDs are customized. The front panels are painted a hot cinnamon red color and have the After Shock Logo inscribed across the front. The After Shock logo also appears on the exterior of the 3D-XTC(tm) game platform.
Large crowds gather around the 3D-XTC(tm) system to watch the player's Virtual Reality game on a large screen monitor. The crowds view exactly what the player sees inside the HMD. The monitor is placed next to the system and generates added excitement and audience participation.
"Our goal is to provide a truly unique and entertaining experience for our customers," said Mike Mitchell, cordials group product director, Jim Beam Brands Co. "The After Shock Virtual Reality game indulges an adult's playful side and inspires a friendly competition, which provides a bonding experience for the customer."
StrayLight's "Pyramid of the Ancient Astronauts" is more than just a game. The software creates a whole adventure, where the player actually becomes the story's lead character, a modern day explorer. "Pyramid of the Ancient Astronauts" is a three minute game divided into four segments:
The Briefing -An introduction to the emergency crash landing of the Ancient Astronauts from Planet After Shock. Lacking the fuel to return home, they build a secret pyramid in the Andes, and lie in suspended animation, waiting to be rescued.
The Lava Rivers -The players must find the secret pyramid, while traversing a series of catwalks through the smoldering hot lava rivers. Along their path, they must gather shimmering After Shock crystals which will serve as fuel for the spaceship's ride home. These crystals can also be sprayed from their crystallizer gun, to freeze the dangerous flaming hot boulders and to score game points.
Search for the Ancient Astronauts -Upon reaching the secret pyramid, players have a set of new challenges. They must race through a series of mazes and chambers to rescue the sleeping astronauts. Along the path, players must disable the robotic sentries who guard the aliens, while continuing to gather the precious After Shock crystals. One they have located the aliens, they must wake the Ancient Astronauts, by breaking the alien's protective shell with crystal vapors shot from their crystallizer gun.
The Party -When you have rescued the Ancient Astronauts, you travel on a thrill ride to Planet After Shock, to a homecoming party of epic proportions. It's After Shock all round as the friendly Ancient Astronauts and their people toast their hero!
StrayLight is the leading Virtual Reality equipment manufacturer and content producer for the promotions market. StrayLight's customized VR systems have been featured in world-wide promotional tours for Blockbuster Entertainment, Coca-Cola, Danzka Vodka, Hennessy Cognac, ITT Educational Services, and Jim Beam Brands.
StrayLight has developed three turn-key entertainment systems, 3D-XTC(tm), CyberTron(tm), and Virtual Theaters. All systems include VR experiences which can be customized with logos and special messages. CyberTron(tm) is a successful gyroscopic motion-based VR system, best known as the first VR system to be permanently installed at Walt Disney World. Virtual Theaters are immersive full body experiences, where large groups of people journey together through stereoscopic worlds. Theater attendees are seated inside impact/motion chairs with individual HMDs.
StrayLight's promotional customers and clients include American Express, AT&T, AVIS, Blockbuster Entertainment, CableTron Systems, Coca -Cola, Disney Resorts, IDX, GMR Marketing, Grateful Dead, Hennessy Cognac, ITT Educational Services, Jim Beam Brands Co., NYNEX, People Magazine, Samsung, TAP Pharmaceuticals, USA Networks, and Westwood One.