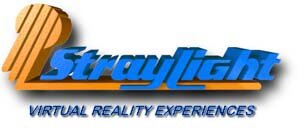 ---
StrayLights Custom Virtual Reality Games Increase Booth Traffic for Hoechst Celanese
Customized VR Game Demonstrates Product Applications
Warren, New Jersey, USA, May 30, 1997 - StrayLight Corp.s Virtual Reality 3D-XTC systems were used to simultaneously increase booth traffic and educate thousands of VR guests at the SAE 97 Trade Show, in Detroit, Michigan. StrayLight customized an existing Virtual Reality game to create "An Automotive Adventure" for Hoechst Celanese Technical Polymers.
Throughout their game play of "An Automotive Adventure", players learned about Hoechst Celaneses product applications. Each player was given a high end Virtual Reality helmet and a special hand controller. With these, players navigated through a full 360 degree world of entertainment. Using real-time interactive technology from StrayLight Corp., players transformed Hoechst Celaneses products, polymers pellets, into their final form, various auto parts: valves, bumpers, dash boards, etc.
"By combining the elements of fun, personal interaction, and product attributes, StrayLight designed a Virtual Reality game which clearly communicated our clients marketing message." says Victoria Massulli, StrayLights Director of Marketing. "Another advantage for Hoechst Celanese was the affordable price, because they chose to modify an existing game, instead of designing a new game from scratch."
SAE attendees watched their peers play inside multiple 3D-XTC VR pods, through large computer monitors perched next to each VR station. The Hoechst Celanese sales force gathered leads and discussed their products, as their clients waited in-line for the Virtual Reality adventure. StrayLight has proven the effectiveness of Virtual Reality as a promotional vehicle: to increase sales leads, draw attention to trade show booths, create a "must-see" on the show floor, and immerse clients inside a particular product/marketing message.
StrayLight is the leading Virtual Reality equipment manufacturer and content producer for the promotions market. StrayLight has developed three turn-key entertainment systems, 3D-XTC , CyberTron , and Virtual Theaters . All entertainment systems include VR software, which can be customized with logos, special messages, characters, and sound.
StrayLight has consistent repeat business from corporate clients using Virtual Reality for special event marketing. Hennessy Cognac returned to StrayLight for a new storyline and additional stereoscopic content, as they extended their Virtual Reality promotional tour for a second year. Having traveled throughout Thailand for over one and a half years, StrayLight's 12 seat Virtual Theater has raised sales of Hennessy Cognac over 600% for on-premise events at various night clubs, bars and restaurants.
Jim Beam Brands Virtual Reality tour promoting their new liqueur, After Shock, has expanded into 5 International Markets, including Japan, Mexico, and the UK. StrayLight programmed custom visuals and audio for the specific cultures, based on the StrayLight custom designed interactive game: "Pyramid of the Ancient Astronauts", which plays on StrayLight's portable 3D-XTC entertainment platform. Each of the eight systems traveled to two bars every night, and visited over 45 US cities, headlining more than 4,000 events over a 9 month period.
StrayLight's promotional customers and clients include: American Express, AT&T, AVIS, Blockbuster Entertainment, CableTron Systems, Coca-Cola, Danzka Vodka, Disney Resorts, IDX, GMR Marketing, Grateful Dead, Hennessy Cognac, Hoechst Celanese, ITT Educational Services, Jim Beam Brands Co., NYNEX, Objective Systems Integrators, Oracle, People Magazine, Samsung, Steel Recycling Institute, TAP Pharmaceuticals, The American Hotel and Motel Association, USA Networks, and Westwood One.