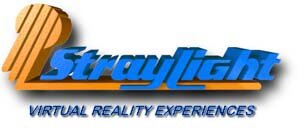 ---
Marketing in Cyberspace
Virtual Theaters Bring High Audience Throughput To Trade Show Floor
Virtual Reality has become more than just the latest techno-buzz word. VR is emerging as one of the most advanced promotional vehicles for marketing and advertising. In an industry first, StrayLight Corp. created a 26 seat head mount based Virtual Theater. Debuted at the Networld+Interop Spring '94 show, the VR theater is currently traveling throughout the trade show circuit in the US and Europe.
StrayLight developed the theater concept for CableTron Systems, who wanted to incorporate Virtual Reality into their new product launch. When beginning their journey, each participant wears a high resolution, 720 x 240, head mounted display (HMD). The Liquid Image MRG2 HMD was chosen due to the wide field of view, 84° x 65° , and high durability factors.
Immersed in cyberspace, each viewer flies through the internals of a high-speed computer networking hub. Attendees experience CableTron's MMAC-PLUS product from a whole new perspective, that of a traveling data packet -- something completely unobtainable in the 'real world.' Virtual Reality takes interaction one step further by allowing consumers to become part of the marketing experience, a more effective tool than the traditional means of advertising.

One of the challenges StrayLight faced with the Virtual Theater was the issue of high audience throughput. Unlike traditional VR attractions, which are geared for 10 to 20 participants an hour, the Virtual Theater is handling in excess of 300 per hour and can be easily expanded to process thousands of participants per hour. Because flow control, reliability, and hygiene were designed into the theater at the beginning stages, 26 guests can be seated in sanitary HMDs in under one minute. "Rapid turnaround was the key to this theater's success" says Tony Asch, President of StrayLight Corp.
CableTron Systems and StrayLight Corp. are in collaboration for a 1995 expanded version of the Virtual Theater with audience participation increased to over 40 viewers. StrayLight is under development for several new VR theaters, and has proven virtual reality is now ready for high traffic locations such as theme parks, museums, and science centers.