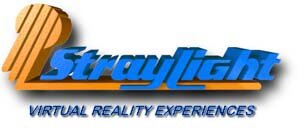 ---
A Pair of StrayLight Magna-Scope Theater Systems
Kick-Off Two Year Tour for
IBM Corp.

College Students Across the U.S. are Virtually Experiencing
IBM technology in 3D!

Warren, New Jersey, USA, December 15, 1998 - StrayLight Corp. is proud to announce the delivery of 2 high-end Virtual Theater systems with full custom 3D content for IBM Corp.s College Relations and Recruiting Division. For two years, each tour will be traveling separately across the country, visiting career fairs at top-notch engineering universities, industry-related trade shows, and various IBM sponsored events. Developed as a hi-tech promotion to engage and inform the ever-critical college market, StrayLight provided their latest and greatest hardware and software solutions.

Each theater system is equipped with 3 of StrayLights new Magna-Scope viewers and shaker seats. While inside the Virtual Theater, guests are completely immersed inside a fully custom designed 3D stereoscopic experience, which is based on actual IBM applications. The virtual tour includes: realistic space voyages, molecular fly-throughs, discoveries of ancient ruins, and futuristic city explorations.

IBM chose StrayLights Magna-Scope Theater because it captures and immerses the guest with 3D imagery and sound. The guests are completely isolated from the external environment with his/her entire attention focused toward the presentation. The production is presented from the first person perspective, which emphasizes the guests participation within the 3D events; a more effective presentation than when the guest is just an observer.

IBM demanded that the 3D experience be of the highest quality and very realistic, because the content represents the opportunities for employment growth, challenge, and change within IBM. With such high production values at stake, StrayLight chose state-of-the-art software to develop the stereoscopic animation. Creating stereoscopic images (images that actually leap off the viewing screen) require sophisticated production and rendering techniques, both complicated processes that StrayLight has developed and refined over the years. To further enhance the production, StrayLight also went on location and shot a live-action video sequence which was integrated into the 3D animation.

This IBM project is StrayLights first U.S. installation of their Magna-Scope Theater. In the spring of 1998, StrayLight delivered a 48 seat Magna-Scope Theater in Lisbon, Portugal for Expo 98, the last Worlds Fair of the 20th Century. With a 100% up-time record for Expo 98, StrayLights Magna-Scope Theater Systems have a proven track record for excellent reliability and durability.

IBMs project management firm, Holophile Inc. of Killingworth, Connecticut, designed and produced a beautifully crafted modular enclosure for the Magna-Scope Systems. The semi-circular design allows each unit to operate as a 3 seat theater, or the unit can easily be made to create a 1 or 2 seat configuration. The Virtual Theaters enclosure needed to be mobile and flexible, in order to accommodate the changing requirements for various event locations.

StrayLights Magna-Scope systems offer a revolutionary break-through for Virtual Reality visualization; stereoscopic visuals are projected inside the Magna-Scope units with twenty times the resolution and four times the field-of-view compared to other Virtual Reality helmet-based themed attractions. Because it was designed as an unencumbered viewing system with advanced optics, the Magna-Scopes offers a better alternative to Virtual Reality head mounted display systems.
StrayLight is the industry leader in custom designing Virtual Reality systems for entertainment, promotions and special events. StrayLights VR systems have been installed world-wide for various Virtual Reality tours and marketing events, and have a proven track record of efficiency and reliability. With product lines ranging from interactive VR game platforms to group stereoscopic Virtual Theater experiences, StrayLight has developed over 30 custom VR productions and specializes in creating stereoscopic custom content, working in both stereoscopic animation and stereoscopic live-action mediums.

A sample of StrayLight's customers and clients include: American Express, AT&T, AVIS, Blockbuster Entertainment, CableTron Systems, Chase Bank, Coca-Cola, Danzka Vodka, Disney Resorts, Ecolab Inc., Frontier Communications, IBM Corp., IDX, Gillette, GMR Marketing, Grateful Dead, Hennessy Cognac, Hoechst Celanese, Innovitech Inc./Metaforia Entertainment, ITT Educational Services, Jim Beam Brands Co., Kraft Foods, LTX, NYNEX, Oracle, PGA Tour, People Magazine, Samsung, Steel Recycling Institute, TAP Pharmaceuticals, USA Networks, and Westwood One.