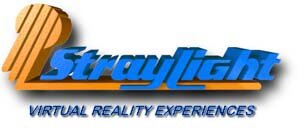 ---
StrayLight Installs Second VR Promotion for Hennessy Cognac's "BARREL TOUR - PART II"
Virtual Reality Results Bring StrayLight's Customers Back for More
Bangkok, Thailand, August 6, 1996 - StrayLight Corp., Warren, New Jersey, has just completed their second Virtual Theater production for Hennessy Cognac's Virtual Reality promotional tour. Due to the overwhelming success of the sampling tour, Hennessy Cognac returned to StrayLight for a new storyline and additional stereoscopic content. Having traveled throughout Thailand for over one year, StrayLight's 12 seat Virtual Theater has raised sales of Hennessy Cognac over 600% for on-premise events at various night clubs, bars and restaurants.
Jim Beam Brands has just announced an international expansion of their Virtual Reality (VR) tour promoting their new liqueur, After Shock. Beginning in Japan, StrayLight will customize the visuals and the audio to the culture of each country. StrayLight custom designed the interactive "Pyramid of the Ancient Astronauts" software, which plays on StrayLight's portable 3D-XTC(tm) entertainment platform. Each of the eight systems travels to two bars every night, and are currently visiting over 45 US cities, headlining more than 4,000 events over a 9 month period.

AT&T reached their marketing goals of increasing trade show booth traffic and becoming the "must see booth" on the show floor, with a 4 minute custom Virtual Theater Production for CTIA Wireless '95. The results were so impressive, six months later StrayLight modified the stereoscopic experience for AT&T's "Future is NOW" campaign at PCS '95. StrayLight's Virtual Theater technology allowed AT&T guests to travel through AT&T's complex networking system from the inside. Virtual Theaters are immersive full body experiences allowing large groups to enjoy 3D adventures with Virtual Reality Helmets, impact/motion seats, and surround sound.
StrayLight accomplished AVIS' goal to entertain trade show guests while increasing brand identity, with a customized Cozmik Debris' game playing on StrayLight's motion platform, CyberTron(tm) . For a smaller event in Portugal, StrayLight provided AVIS with two compact 3D-XTC(tm) systems also featuring the modified software.
StrayLight is the leading Virtual Reality equipment manufacturer and content producer for the promotions market. StrayLight has developed three turn-key entertainment systems, 3D∑ XTC(tm) , CyberTron(tm) , and Virtual Theaters. All entertainment systems include VR software which can be customized with logos, special messages, and sound.
StrayLight has consistent repeat business from corporate clients using Virtual Reality for special event marketing. From trade show presentations to promotional tours, StrayLight's Virtual Reality has increased brand awareness, reinforced corporate identities, captured media attention, increased sales leads, educated prospective clients, and of course, entertained.
StrayLight's promotional customers and clients include: American Express, AT&T, AVIS, Blockbuster Entertainment, CableTron Systems, Coca-Cola, Disney Resorts, IDX, GMR Marketing, Grateful Dead, Hennessy Cognac, ITT Educational Services, Jim Beam Brands Co., NYNEX, People Magazine, Samsung, TAP Pharmaceuticals, USA Networks, and Westwood One.