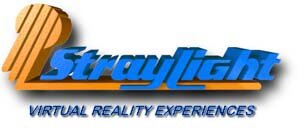 ---
StrayLight's 3D Virtual Theater Tours Far East
Hennessy Cognac Launches 12 Seat HMD Based Promotional Campaign
Bangkok, Thailand, February 20, 1995 - StrayLight Corp. has just installed a 3D Virtual Theater in Thailand as part of a Hennessy Cognac promotional tour. The 12 seat stereoscopic theater, opened this week at the exclusive Pegasus Nightclub in Bangkok. Equipped with 3D audio, 12 high resolution Head Mounted Displays (HMDs), and 12 motion seats, the 3D Theater transports its guests to 18th century France to experience first hand, the history behind Hennessy Cognac. This Virtual Theater, for a period of 2 years, will travel throughout the Far East, stopping at various bars, restaurants, and night clubs.
The first 3D Virtual Theater was developed by StrayLight in the Spring of 1994 to fill the growing need for VR attractions with high audience throughput. Since Virtual Theaters are built modularly, theater systems can be expanded to handle several hundred guests per seating. As Location Based Entertainment proves to be a successful means for large promotional campaigns, StrayLight has proven Virtual Reality is now ready for high traffic locations such as theme parks, science centers, and museums.

"The creative and technical issues to create a mobile 12 seat Virtual Theater were quite challenging" said Tony Asch, President of StrayLight Corp. StrayLight was also responsible for producing the 7 minutes of content used in the Hennessy Theater. This production uniquely combines 3D computer graphics with live 3D video footage, shot on location in Cognac, Hollywood, and Thailand. To produce the completely immersive 3D experiences StrayLight is known for, each frame of content has to be rendered two times, once for each eye, and then merged together in real time. "Unlike many VR installations which emphasize only the technology, we wanted our guests to lose themselves in 18th century France. The battle scene scares the hell out of most participants." said Asch. "Its only when we fade to black at the end, that you realize it's just VR!"

The Thai population won't have any trouble locating StrayLight's Virtual Tour when it pulls into town, as the 3D Theater is housed inside a giant 80ft Cognac Barrel. Audience members enter the two storied Barrel to find StrayLight's Virtual Theater downstairs and a beautifully decorated 18th century French chateau and cognac-tasting room upstairs. As the hostesses dressed in period costumes seat guests in the Immersive Theater, the fun begins. The audience is immersed in the three dimensional dynamics of computer-generated images combined with live 3D video, and feel as if they are really running through the vineyards of France and flying through the insides of the cognac distilling chambers.
The journey virtually launches guests back in time, beginning with a 18th century battle scene. As the canons fire and the battle roars, you feel the intensity of the war. Your body shakes from the impact of the motion seat which is directly linked to each individual 3D sound system. Suddenly you are floating above the River Charente past the Hennessy's St. Brice Chateau in the village of Cognac, to meet the renown Richard Hennessy, the founder of Hennessy Cognac, for a personal tour of the Estate and a computer generated thrill ride through the distillery.
With a 3D Virtual Theater, Hennessy was able to better illustrate their complicated process of making cognac, by allowing guests to actually become part of the distilling process. A journey impossible to recreate in real life, StrayLight's Virtual Theater allows guests to experience products from a whole new perspective. With Virtual Experiences, consumer retention levels are increased as product information can be conveyed in an exciting manner, which not only involves the participant, but generates good old fashion FUN.
Last year, in an industry first, StrayLight Corp. created a 26 seat HMD based theater for CableTron Systems, Inc. Earlier this month, StrayLight produced 3D Virtual Theaters for AT&T Wireless Systems, and over 60 theater locations for ITT Educational Services. StrayLight anticipates over 100 installations of its Virtual Theater by mid 1995. StrayLight also produced the content for all three clients. Over the past two years StrayLight has supplied its CyberTron VR games with custom content for numerous promotional events & tours. StrayLight's gaming software for the CyberTron, a 2 ring gyroscopic VR entertainment system, can be also be easily customized to include logo placements and specific marketing messages. As a pioneer in the VR arena, StrayLight will once again venture into uncharted territory, with the development of a full interactive 3D theater, scheduled to debut this summer.