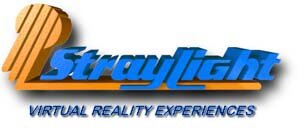 ---
StrayLight Installs 3D Virtual Theater For AT&T
VR Entertainment Emerges as a Successful Promotional Medium
New Orleans, LA, February 1, 1995 - StrayLight Corp., in a continual quest to exceed technological limitations, has just installed the first ever 3D Stereoscopic Virtual Theater for AT&T. Complete with 3D audio, every attendee has their own high resolution Virtual Reality HMD (Head Mounted Display). Each of the 14 high-impact vibration seats are directly linked to the 3D sound system, which intensifies the rumbles and roars of the virtual experience and completely engrosses the audience.

The 3D Virtual Theater was developed by StrayLight to fill the growing need for VR attractions with high throughput. This 4 minute show handles nearly 200 attendees every hour, thus proving that Location-Based Entertainment can be a successful means for large promotional campaigns. The theater can be easily modified to fit any size audience, from a one person show to an audience of hundreds. "Flexibility is important to our clients," says Victoria Massulli, StrayLight's Marketing Director, "since the theaters are used on a continuous basis for very diverse marketing opportunities".

Built for AT&T's "You Will" presentation at The CTIA '95 Wireless Convention, the theater launches viewers into a fictional journey of future wireless communication. AT&T will use the theater for a number of promotions throughout 1995, thus providing a large number of audience members with a variety of experiences including cyberspace explorations of high-end computer networks, and ski races down the Swiss Alps.
The wild effects of 3D images flying off of the screen, required the creation of uniquely formatted visuals for each eye. Every frame has to be rendered twice, (once for the left eye, and once again for the right eye), and then merged into one, to produce the outrageous, 'in your face', 3D effects.

Last year, in an industry first, StrayLight Corp. created a 26 seat HMD based theater for CableTron Systems, Inc. Later this month, StrayLight will install their third Virtual Theater in the Far East, as part of a promotional tour for Hennessy Cognac. As a pioneer in the VR arena, StrayLight will once again venture into uncharted territory, with the development of a full 3D interactive theater, scheduled to debut this summer.